Give yourself a pat on the back.
You survived (and hopefully thrived) through the Black Friday – Cyber Monday weekend and likely saw a huge spike in your sales and revenue.
But that's where the merriment and celebration ends. Give yourself a pat on the back for doing well, but don't kick your feet up just yet.
Why?
Because despite what every ecommerce article would have you believe, Black Friday – Cyber Monday is not the goal. It might be the biggest weekend of the year, but it marks the start of the busiest month of the year.
Those two days do boast the highest revenue as you can see in the below stats from Statista.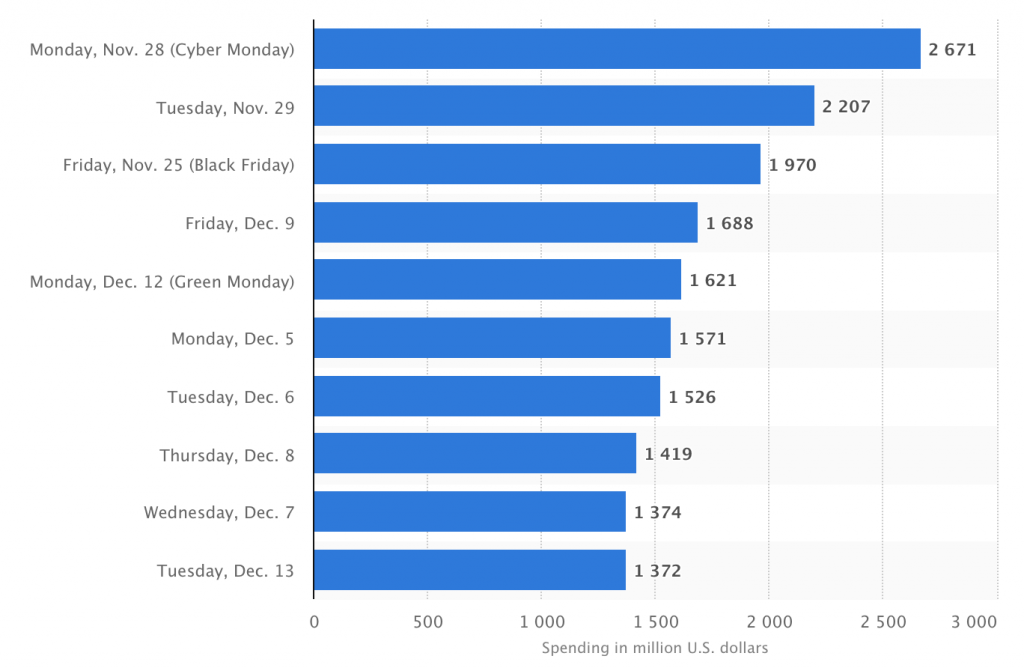 However, generally speaking, the rest of the month is business as usual. That weekend sees a ton of people who are looking for the best deals for themselves.
Yet as soon as it's out of the way, the Christmas shopping starts. Your customers are looking not just for a single present for themselves, but one for every member of their family. It's a month of consistent shopping for the most perfect gifts, and it shows as December is consistently the highest grossing month of the year.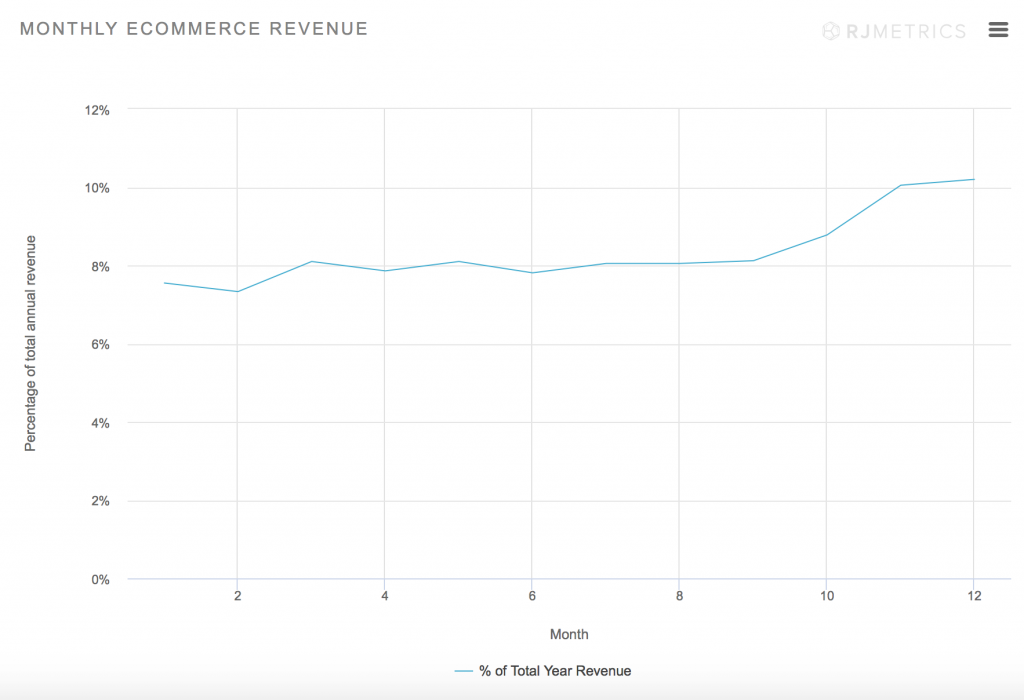 The ecommerce world loves to focus on Black Friday because the huge spikes in sales are sexy. But smart store owners know that December is the month that can make a lasting difference to your profit.
I'm going to cover a couple of things you can expect over the Christmas period to help you better prepare your store and make the most of the most profitable month of the year.
Digital Gifts Spike Before Xmas
In an ideal world, we'd all buy our Christmas gifts over the BFCM weekend. But this isn't an ideal world and it's full of lazy people like me who favor (foolishly) the last minute approach to gift shopping.
Some leave it later than others and end up in that awful period where even the most speedy delivery won't have a gift arriving in time for the morning of the 25th.
This has led to a huge increase in the number of digital gifts and gift cards. Riskified have crunched the numbers and, according to their stats, Christmas Eve sees the highest number of digital orders by a huge margin. It's actually far higher than any sales across the BFCM weekend coming in at over 30% of all orders.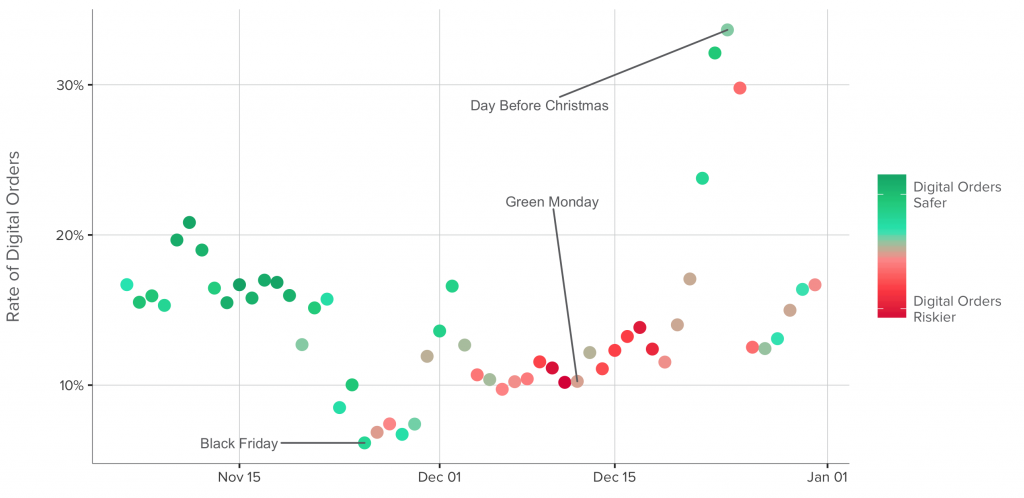 After Cyber Monday the need for digital goods passes. Most people prefer to gift a physical product for Christmas and so if you've tested digital goods over that time frame you'd be forgiven for thinking it a waste.
But things drastically pick up in the two-three days preceding Christmas. Late gifts from forgetful friends renew the interest in products that require no delivery.
You have to take advantage of this.
In the final week's run-up to Christmas ensure that you're prominently displaying gift cards or your digital-only products/offers. You'll catch the attention of those who have missed the delivery window and should see a nice little uptick in sales.
Even More Mobile Customers
Mobile optimization's par for the course in modern ecommerce.
Mobile searches outnumber desktop and with every passing year mobile device usage gains just a little bit more of a lead on other devices.
Smart ecommerce stores aren't just optimizing for mobile, they're adopting a mobile-first mindset. This mobile-first mindset is never more important than it is on Christmas.
According to Criteo, Christmas Day is the busiest mobile shopping day of the year.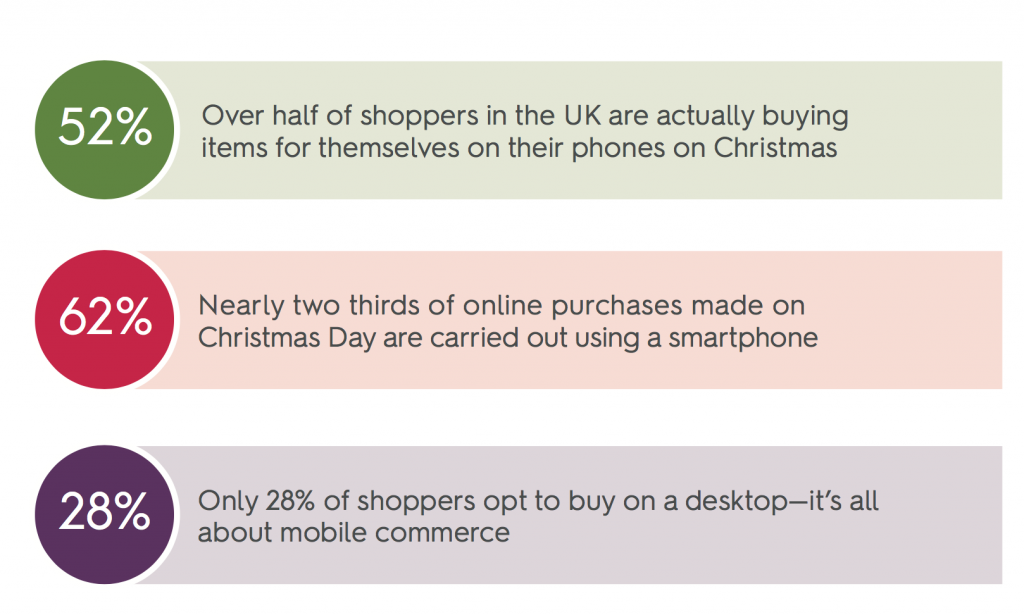 If you've got your mobile strategy sorted, you stand to generate a tonne of cash. But if you haven't, then you're going to lose money unnecessarily.
Setting up a thorough mobile optimization campaign is anything but easy. However, there are a few key steps you should be able to implement with little difficulty to increase your overall mobile conversions.
1 – A responsive design
This isn't a quick fix for many, but I'm still including it as it's something your store has to have. If you're not using, at the very least, a responsive site design then you are losing out on a tonne of revenue because your site won't display well on smaller devices and the UX will be downright painful.
2 – Ditch aggressive popups
Popups can be great for increasing conversions. But on mobile, they're a real pain in the ass. Try to ensure your popups and overlays only trigger on desktop.
3 – Digital wallets
Conversions increase when you remove friction. Filling in card details on a mobile display is anything but friction free.
To speed the process, make use of mobile digital wallets like Apple Pay. It takes the hassle out of checkout and streamlines the final, critical stages of the purchase journey where abandonment is most costly.
If you want to take a more thorough approach to optimizing for mobile I recommend this comprehensive beginner's guide to making your site mobile-friendly from our friends at First Site Guide.
A Shift in Sales Surge Days
Some shoppers are locking in big purchases earlier than ever before. Others are continuing their splurge well into the New Year.
The traditional period of purchasing Christmas gifts is long gone. Every year sees a shift in the purchasing habits of consumers making it difficult to accurately predict when to expect an increase in sales.
Criteo noted that in 2016 there was a huge surge on the 22nd and 23rd. The 22nd saw 2X the conversions than in 2015, and the 23rd increased by 3.5X. Criteo believes this was caused by the improvements in shipping and many merchants efforts to match Amazon's 2-day shipping promise.
As various elements of ecommerce evolve, so too do the top shopping days. It's near impossible to accurately predict when you should be doubling down on your key marketing efforts.
Take for example November. You'd expect the four days between BF and CM would see the highest sales. However, the graph below shows the year on year change between 2015 and 2016 where the 18th saw the biggest surge in sales.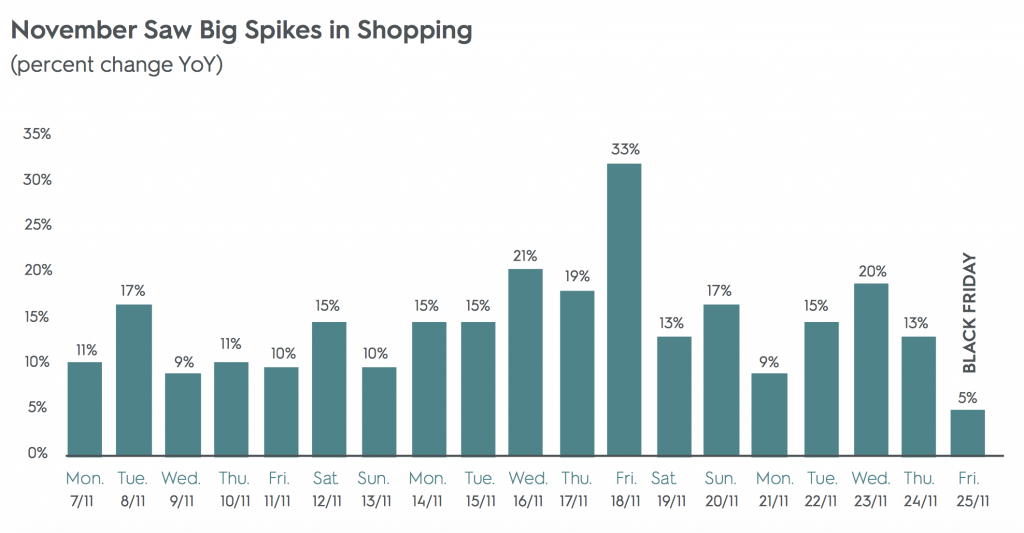 These unexpected changes in consumer behavior extend into December as well.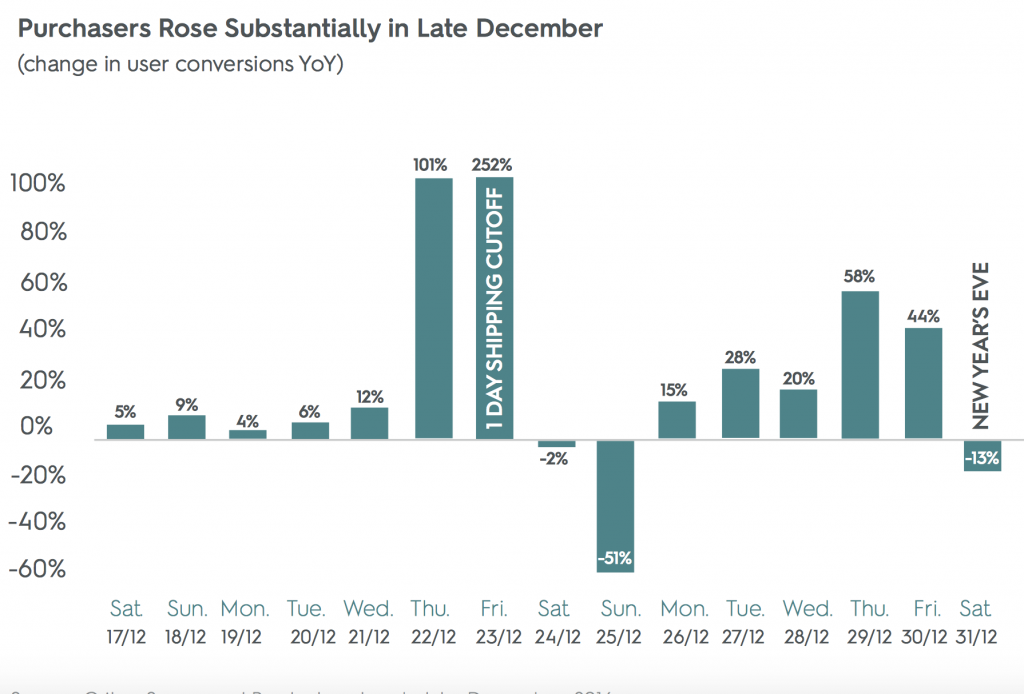 What's most interesting about the above is the shift in sales. There's little increase in the period running up to Xmas, however, in the period between Christmas and New Year every single day saw an increase in sales.
But what does this mean for this year?
Well, it's difficult to say. No one can accurately predict what will happen, but the smart money is on a very similar pattern repeating due to there having been no major developments in key areas such as delivery.
To make the most of the Christmas period, you should be continuing to run your campaigns all the way through to the New Year.
Don't view Christmas as the final day of your sales. I'd even say it would probably be worth you running tests on everything until at least the end of the first week of January.
Christmas Day is Not a Day Off
We'd all prefer to spend Christmas day with our feet up, enjoying a nice glass (or five) of our favorite drink after a hearty dinner.
But you can't afford to take your eye off the prize.
Sure, overall sales might drop on the day itself, but as I've already mentioned Christmas Day is the biggest day of the year for mobile sales.
People are going to want to spend those last minute digital gift card gifts you've sold in the run-up to Xmas, they're going to spend their downtime whilst visiting the family looking at what they can splurge on for the new year.
It's a quieter day than those around it, but it's still busier than many an average day in ecommerce.
The below is a Criteo study of basket analysis for apparel stores in 2016 in the UK.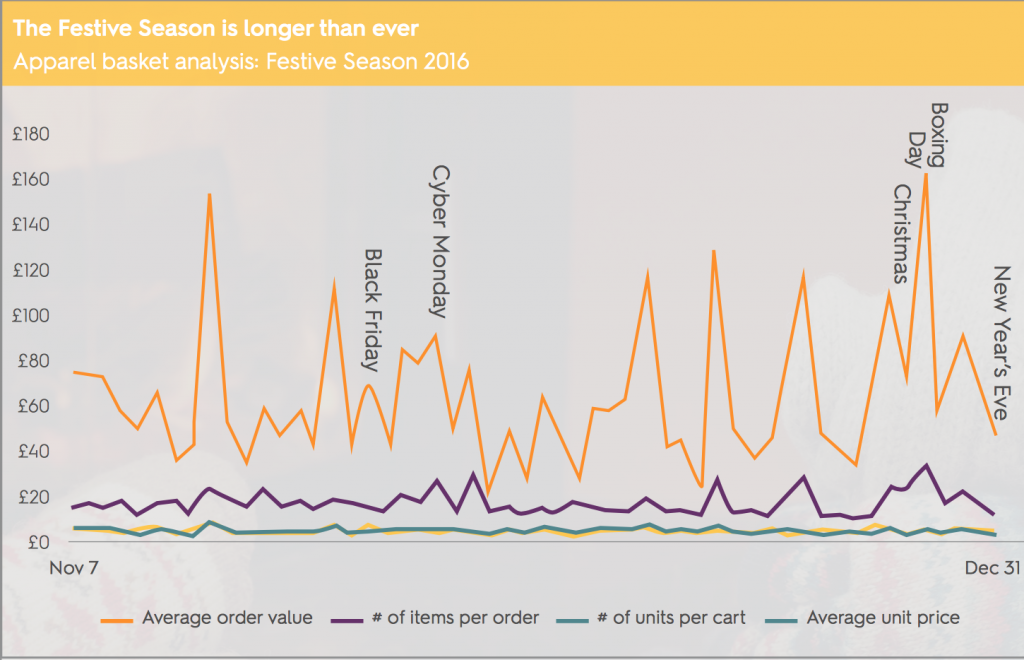 Christmas might not reach the heights of the pre-Black Friday interest or Boxing Day gift card spend, but in the above, it beat both Black Friday and Cyber Monday in terms of AoV and number of items per order.
That's enough to make sure you keep an eye on your store, campaigns, and overall sales. Christmas Day is not a day off, but another excellent opportunity to drive more revenue.
Potentially Skewed Test Results
Tracking and testing should form the bedrock of your overall optimization strategy. With the increased traffic, sales, and interest in this period it's easy to think it's a great time to quickly run some tests to statistical significance.
And sure, that can happen, but you have to be aware that seasonal changes could skew your results.
Consumer behavior changes around this time of year. Some people are panic buying, others are just buying any old thing for their office secret Santa, and some are the normal kind of consumers you can expect year round.
The differences in intent and consumer behavior aren't going to translate to the rest of the year. You have to be aware of this and amend your testing accordingly.
Peep Laja of ConversionXL offers the best piece of advice for this when he says:

Yes, you might be able to run some killer tests for the holiday season. And sure, they might offer a good insight into what may work in longer term tests.
But don't rely whole-heartedly on your discoveries. Run the tests again come January if you think they have promise and see how they work in a shopping period not fuelled by panic, greed, and joy.
Increased Cart Abandonment
So the Festive period is great for traffic, interest, and sales. But with that increased activity you're also going to see a huge jump in the number of abandoned carts.
According to SaleCycle, 2016 abandonment rates in December jumped from the average ~75% to anywhere up to ~81% which is insane.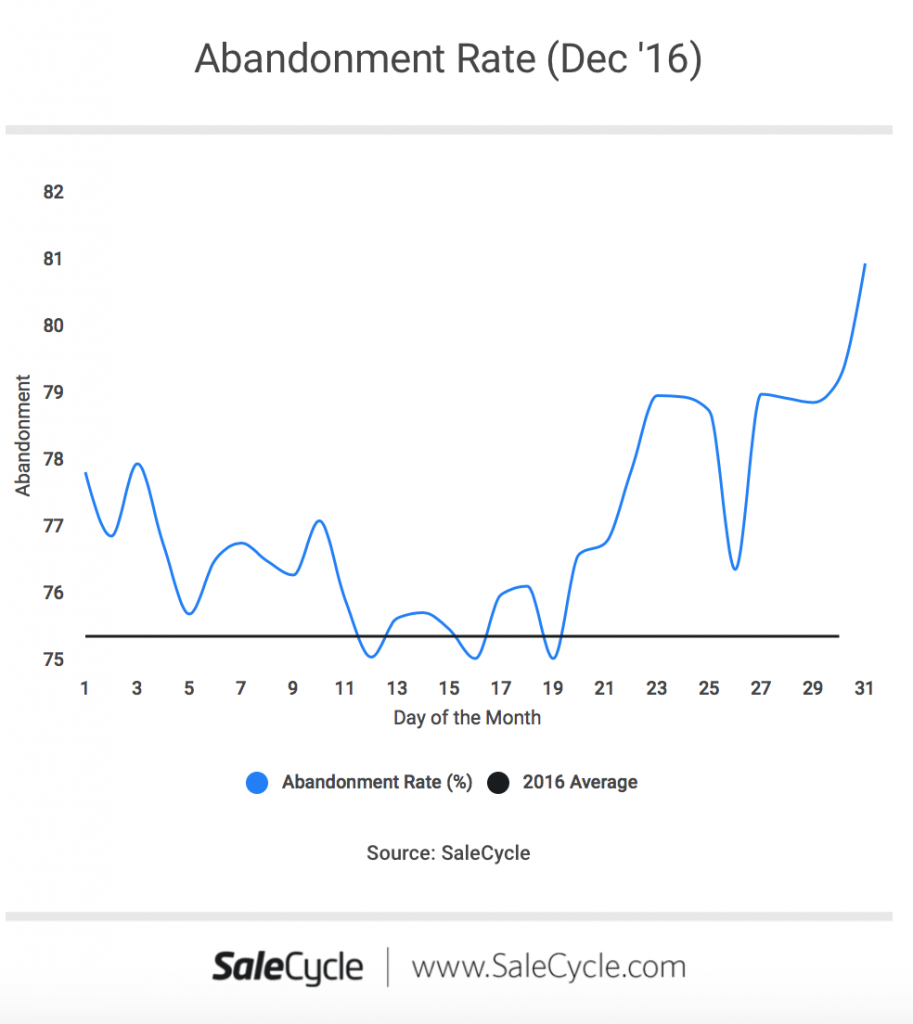 In fact, on all but 3 days the abandonment rate was higher throughout the month than the average.
You need to have a comprehensive abandonment strategy set up. Without one, up to $80 of every $100 that makes it to the basket is walking out of your store, never to be seen again. That's $400 lost for every $100 made.
The question is, how can you recapture these abandoned carts?
The time-honored method of an email sequence is a great method for recapturing much of that lost revenue. You just have to make sure that you've set up well thought through email sequences with compelling copy.
Obviously, we're a little biased here, but I'd also recommend you set up Facebook Messenger campaigns for cart abandonment. In our testing, we've found Facebook Messenger campaigns to be far more effective with every key metric.
Users engage more with Messenger and, with these kind of transactional messages, Messenger simply drives more revenue.
If you've not yet established a cart abandonment Messenger sequence, sign up for a free Recart account and use some of our push-button sequences and templates.
Keep Your Christmas Campaigns Rolling Until January!
The short and sweet version of this piece is that consumer behavior is changing.
Generally speaking the campaigns you're already running should bring some decent gains, however, don't think that Christmas Day signals the end and a time for celebration.
Consumers are continuing to shop and shop heavily until the New Year. Make sure you're not only running your current campaigns until January, but also taking advantage of the change in need through including digital gift cards and specific end of year sales.