Since Facebook's announcement about the pre-check revoking, we have been working on new solutions to convert your online store's visitors to subscribers. That's how we've come up with our Conversations Starters. And now we are adding an even more powerful tool: our new Smart Display will help you capture even those visitors who are not logged into Facebook.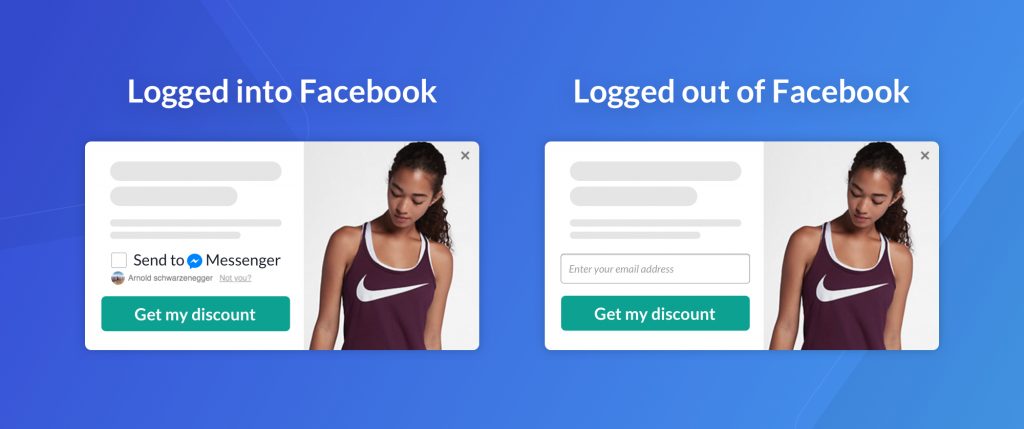 Email marketing VS Messenger marketing
Before I go on with the description of our new Smart Display option, here's a quick comparison of email marketing and Messenger marketing.
Chatbotslife reports some pretty telling statistics. Messages sent out via Messenger have an impressive 70-80% open rate supported by 15-60% click-through rate. On the other hand, emails tend to have an average open rate below 25% and a click-through rate that barely passes 4%.
We prefer Messenger (and most merchants do – as they prefer more revenue which comes from Messenger). But what if your visitors don't? We have a solution for that.
Not on Facebook? Not a problem
Messenger marketing is continuously growing and according to Growcode's research, up to 45% customers "consider chatbots their primary choice of customer service inquiries".
However, even if you have embraced Facebook Messenger (as 1.3 billion users have) and consider yourself a Messenger marketing adept, you still want to make sure you subscribe these two groups of visitors: a) those who are are not logged in (without interrupting them with a login request) and b) those who simply are not on Facebook.
This is where the Smart Display steps in.
Smart Display = intelligent subscription form
What does Smart Display do? It detects whether the visitor on your page is logged into Facebook or not and offers them a subscription option accordingly.
The visitor is logged into Facebook? Messenger popup. Not logged in – email popup.
Very simple, yet valuable – approximately 50% of your traffic is logged into Facebook, so Smart Display doubles the likelihood of you getting new subscribers.
You will show the Messenger experience in these environments:
Android browsers
Facebook in-app browser
Messenger in-app browser
Chrome, Firefox, Opera, (all devices)
Safari iOS (partial support)
And you can expect to show the email experience in these ones:
Instagram in-app browser
Safari
Note: If you use Facebook Ads to drive traffic to your store, you can expect that the majority of your customers are logged into Facebook while browsing.
If the visitor is logged into Facebook, they can simply subscribe with the one-click Messenger subscription form. And if the visitor is not logged into Facebook, they see an email subscription form: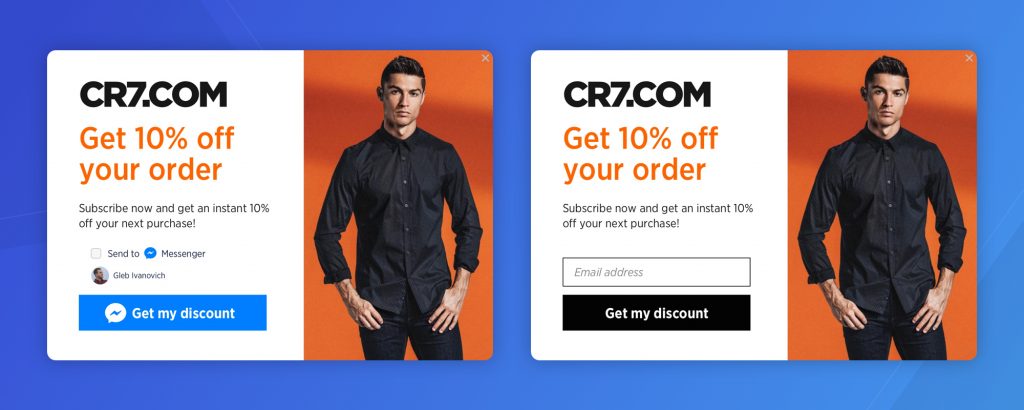 This way, without requesting a Facebook login, you do not create interruptions for the visitors who are not logged in. It increases the subscription rate as instead of subscribing only those who are on Facebook, you make sure to also offer a subscription option to those who are not.
Let's see it in action.
Showcase: Optimonk + Smart Display
To present our Smart Display, I will show you how it works with one of Recart's integrations, Optimonk.
Optimonk advocates for a stress-free approach to interacting with users. This makes them a great app for showcasing the new feature that we designed to help you be considerate towards your online store's visitors with ease.
This is how it works:
Create a new campaign in Optimonk app
Edit campaign's variant by clicking on Variant and going into Settings
In Settings choose the Social tab
Choose Recart in the Integrations
Now your Recart-Optimonk integration is up and running and the Smart Display is automatically turned on and offers those visitors who are not on Facebook the alternative subscription option via email.
Wondering whether you can edit the button text or change the button colors? You absolutely can and you can read all about it in Optimonk's blog post on Smart Display. Moreover, they are releasing five additional new Messenger templates soon.
Use all the means
As crucial as it is to use the most converting tools to increase the revenue, it's also important to keep a watchful eye on the needs of your visitors. It is great if they are all about Facebook and messaging, but if that is not the case, Smart Display will help you make sure as many visitors as possible leave your store as subscribers – be it via Messenger or via email.