There are a few ways to define marketing spam, but I'm willing to bet that the thought at the top of your mind is "too many". And with the average US smartphone user getting 65 and 80 notifications every day, we totally back your thinking. Plus, this statistic is from 2018 so we're sure it's well into the hundreds by now. But either way, let us ask you this: do you still want to be a part of the crowd? 
Brands Grow Faster With Text Marketing
Schedule a free demo of Recart and get your SMS marketing up and running in 3 days.
Here's some food for thought; let's say at least 3 of those notifications are your competitors, perhaps another fashion brand offering a summer sale. Where does that put your business? Probably lower on the priority list or even out of mind completely. And if your competition is running consistent campaigns, will this keep happening? We think so.
There is a solution to ensure you're part of these notifications but not part of the spam. The answer is simple and we'll break it down for you.
You don't have to choose between quality and quantity
The behavior around this is interesting. Studies show that 3-6 push notifications result in 40% of users updating their settings to "no more notifications". But when receiving more than 20, only 5% of app users turn off push notifications. This gives us pretty good insight into the minds of consumers and validates our theory that no matter the amount you send, the quality of your communication is what truly defines something as spam or not spam.
Avoid marketing spam by creating real value
Now that we know that what is in your message is key, the how many become easier to define. You should base the number of messages you send on this simple rule: is it useful and relevant?
Let's break useful and relevant down into actionable marketing categories:
Implement automated messaging by setting up
1. Payment and order confirmations and delivery updates:
These messages reinforce trust and keep customers in the know. In this day and age, these are expected and have almost become non-negotiable.
2. Welcome messages when subscribing or joining a list or group:
Confirmation messages let your customers know their subscription was successful and go a long way in setting the communication tone and building engagement (and a welcome discount adds even more value for your customer).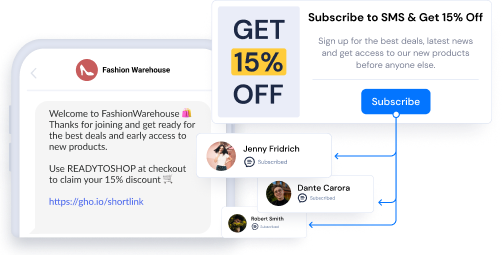 3. Loyalty promotions, discounts, and updates
Customer experience and loyalty are huge drivers of retention. Why would a customer spend money somewhere new when they know they'll receive perks from their favorite store? Plus, communication like this prompts action and leads to purchases.
4. Abandoned cart reminders with purchase incentives
A customer that has added an item to their cart is only one step away from a purchase. That's why these reminders are helpful to both your customer and your business.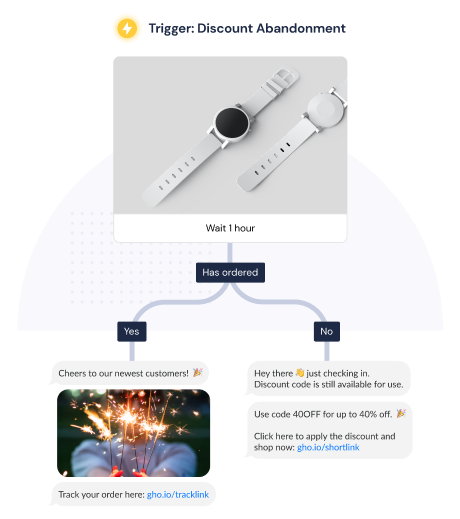 Invest in one-off messages
Relevant tactical promotions
Has a reminder to buy flowers for your mother a few days before Mother's Day ever saved the day? Or perhaps a discount on that TV you've been eyeing for Black Friday? This is why personal and tactical one-off promotions work. They cater to a need and offer an incentive – simple!
Early access or pre-order options
These campaigns often tie in with loyalty programs and result in customers appreciating the exclusivity they have received. They are also a great way to test a new product or service before launching to your full audience.
Select your channel carefully
There are many channels to choose from, notifications directly from apps and email are most frequently used, but this doesn't mean they are the best choice for your brand. While app notifications have been shown to boost retention, 52% of app users find them annoying. And emails, although a long-standing method, tend to end up in spam folders or see only 20% open rates.
If we're talking relevant and personal, SMS marketing offers the most value. In fact, 91% of customers are interested in signing up for texts, with over half of those already having done so. SMS is widely used for personal messaging, so while consumers are perhaps picky about what brands they sign up for, once a user is subscribed, you can be sure you've got a loyal customer lined up.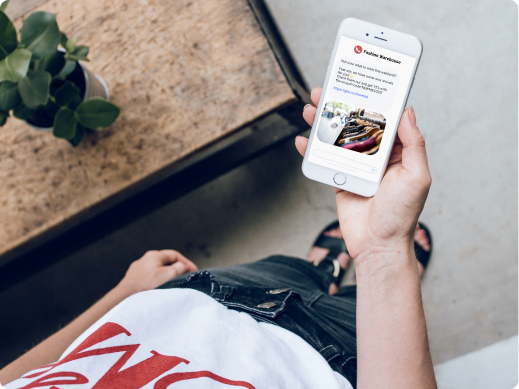 Useful and Relevant SMS  
In summary, the simple formula that will make you stand out above the rest is to offer value and use the right channel. These content tactics and the SMS work hand in hand and with the right strategy and tool, are pretty easy to implement. 
When choosing your tool, lookout for a company that:
Offers strategic and managed services:

These teams will have the most practical application experience and advice and will guide you through the setup and optimization of your SMS campaigns.

Has templates and easy-to-use flow builders:

These are important features to have as you might need to quickly set up a tactical campaign, update some criteria or optimize your campaigns.

Offers trials and guarantees:

Simply, this means they are willing to back their tool. This level of confidence can pretty much

guarantee success

as no business would make big promises without being sure the tool works!
Ready to get started with SMS?
Book a call with an SMS expert to learn how you can apply this guide to your business. It's obligation-free and we know you'll learn a thing or two even if you don't purchase our tool.
Brands Grow Faster With Text Marketing
Schedule a free demo of Recart and get your SMS marketing up and running in 3 days.