While brick and mortar stores will also play a vital role our economy, the pandemic and rise of eCommerce has seen a large number of physical stores shutting their doors. And with eCommerce sales growing 50% to $870 Billion during the pandemic, brands need to focus on the importance and need for a good eCommerce strategy.
In addition to Covid, there are numerous reasons why eCommerce is experiencing such growth. A top example is the growth of mobile-first shopping and the convenience of door-to-door delivery.
Another huge factors fueling the growth of eCommerce is that companies keep coming up with increasingly innovative ways to make more sales such as SMS marketing. It's time to be inspired by their strategies and grow your eCommerce sales, too.
Here are 9 companies who are killing the eCommerce strategy game.
1. Introduce a mobile-first channel 
As a eCommerce store, VANITY TABLE were quick to take advantage of the mobile boom and introduced SMS marketing into their marketing strategy. They quickly set up website pop-ups to capture subscribers, created automated flows to keep consistent communications flowing. They also send tactical and seasonal text message campaigns to keep their customers informed and excited.

2. Multi-channel eCommerce strategy
Why sell on just one channel when you can have them all? More channels, of course, means more opportunities to make sales. And the best part is that customers who use multiple channels to make purchases spend 10% more online than single-channel customers.
Think Crucial, an online store for replacement household items, takes advantage of this method. They grew an eight-figure brand by leveraging multiple sales channels.
Think Crucial's founder Chad Rubin wanted to increase sales and revenue but realized he couldn't do that on his website alone. He managed to get his products listed on a number of online retailers and marketplaces – eBay, Sears, Newegg, Wayfair, Overstock, Jet, Walmart and more.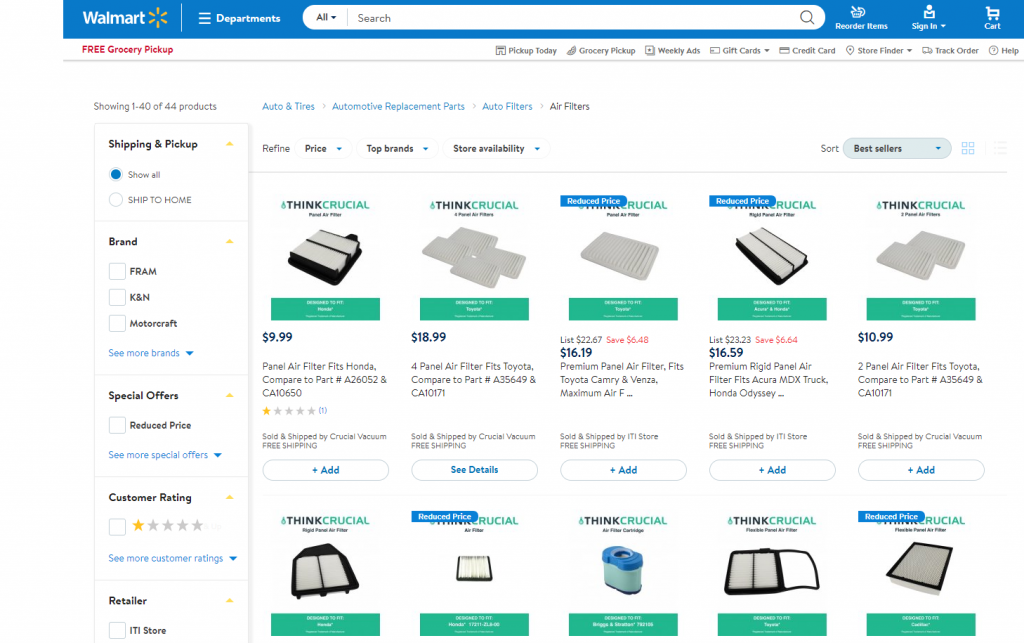 The reason why his multi-channel selling was such a great success was that he wrote specialized content for each platform or sales channel. He snagged customers in various places by adapting his brand for the channels they were already using.
Key Takeaways: Integrate multiple channels to increase sales. 
You can do it easily on eCommerce platforms like
Shopify
,
BigCommerce
etc.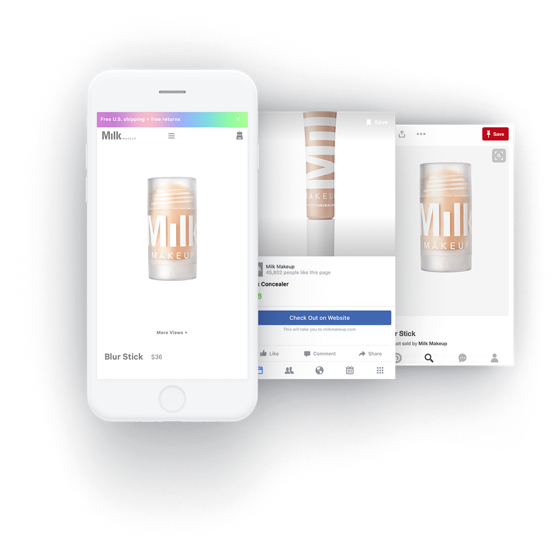 These platforms allow you to integrate the likes of eBay, Amazon, Pinterest, and Facebook for optimum sales.
3.  Embrace Amazon Prime Day
I was just looking for some creepy, white contact lenses online (I have my reasons). The first site I checked was Amazon because I know they stock multiple brands and offer decent prices. Like me, 48% of people look at a mass marketplace first when shopping online. In other words, nearly half head to Amazon, eBay, Etsy, etc. when they want to make a purchase.
People love Amazon so much that 70% of US households have a Prime membership. Basically, if you're going to add a sales channel to your online store, Amazon should be your first choice based on its popularity.
Simply Gum, a chewing gum and mints company based in New York, used Amazon's offerings as a sales channel to the fullest. They took part in the annual Amazon Prime Day, selling their products at a discounted price.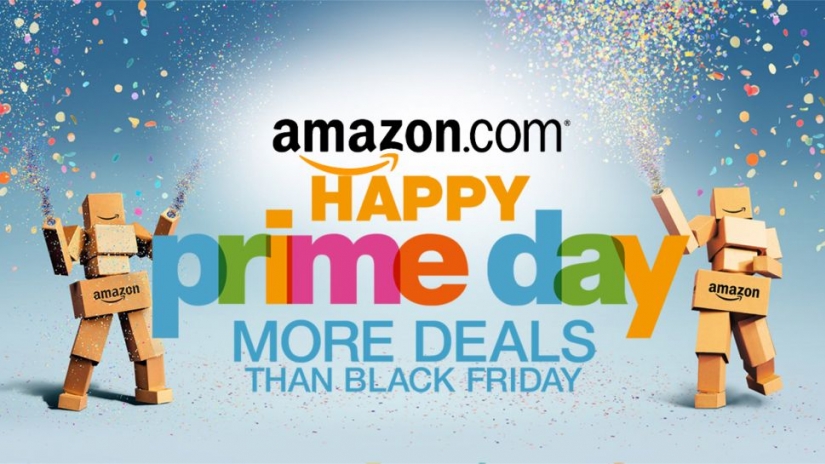 Their first Lightning Deal sold out in six hours. And they saw in an increase in sales of 1,371% – wow!
Key Takeaways: Leverage the best aspects of each sales channel you use. 
For Amazon it might be Prime Day, for Facebook it might be their ad options, and so on. Experiment with deals & discounts, especially during events such as Prime Day, Black Friday, and Cyber Monday.
4. Use splash pages
Before you invest in a product, you obviously want to test the market demand. Otherwise, you could end up losing a bunch of money.
If you don't have much in the way of expenses and resources, the easiest way to do this is by creating a simple landing page for your new product. And landing pages work. Sites see a 55% increase in leads when increasing their number of landing pages from 10 to 15.
KNOXLABS, a company that sells VR-based products, successfully tested the market demand for their product using a splash page.
In case you didn't you know, a splash page is the landing page you see before being taken to the main website.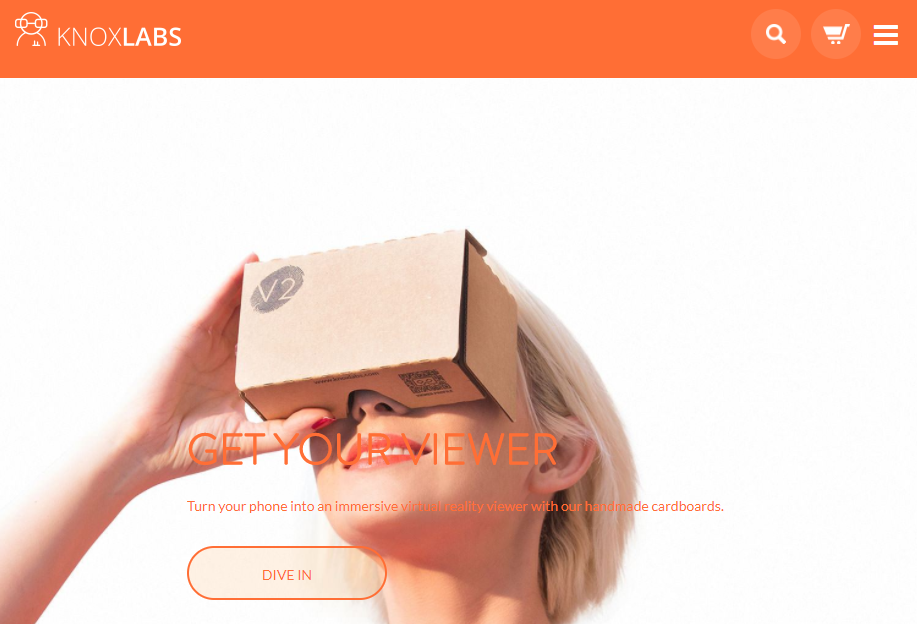 KNOXLABS' splash page garnered lots of traffic and interest. Plus, 500 pre-orders. So they knew they were onto a winner. They now sell multiple products and make millions in revenue each year. But it all started with a simple splash page.
Key Takeaways: Create appealing landing pages that not only confirm your product idea…
But they can also generate hype for your product before it even hits the market. Use a call to action and collect leads using your page. This will help confirm your product's success before you waste too many resources on a dud.
5. Facebook Messenger Bots
Chatbots are a big eCommerce strategy trend! If you haven't heard about them, where have you been? It's an easy way to automate and streamline your marketing and customer service efforts.
With Facebook introducing Messenger bots and a Messenger plugin for sites, you're going to see more and more businesses communicating with customers through FB Messenger. 20 million pages already use Facebook Messenger to communicate with their audience.
This trend is definitely a bandwagon you're going to want to jump on. Many brands have already seen great success using Messenger bots. One of these success stories is clothing retailer, American Eagle Outfitters.
They developed two bots to engage customers, particularly around the holiday season.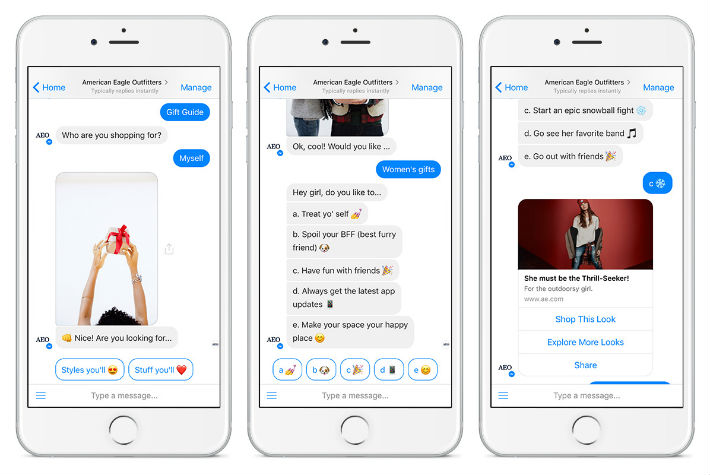 The result – four million messages exchanged between consumers and bots. And, even more impressive, a 25% click-through rate. That's the kind of engagement that eCommerce dreams are made of.
Key Takeaways: Get on board with innovative new technologies like Messenger bots.
Use Messenger as a form of conversational commerce. In other words, you need to send users messages that they will actually see. Create a conversation with your consumers and they will be more likely to respond.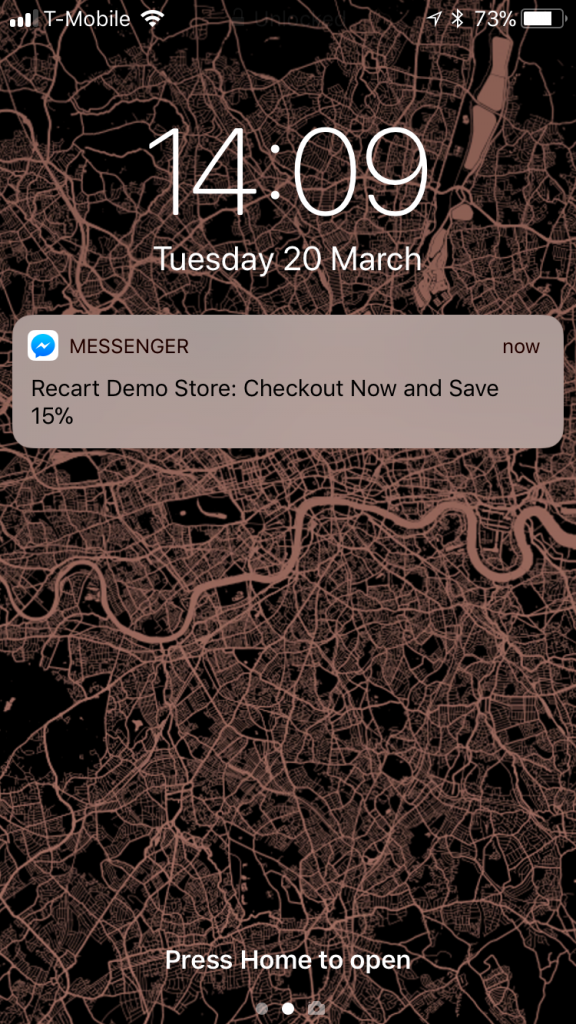 Because you know they are more likely to see a Facebook message that pops up on their phone than an email that might even fall into their spam folder.
6.  Gamified Referral Program
Let's say you see an ad from a brand that says 'Our product is the best on the market.' You would probably think, 'Well, of course, you would say that. You want me to buy it.'
If your pal Taylor said, 'Honestly dude, it's the best on the market.' You wouldn't think twice because you probably trust Taylor's opinion. That's exactly why referral marketing works so well. You trust the recommendations of your friends, family, colleagues, etc. As a result, 14% of people who visit a referral page take an action on that page.
The hard part, though, is getting people to recommend your products in the first place. Shaving subscription service Harry's has it down. They gamified their referral program to get more people to recommend their products. They offered freebies for referrals, which is relatively common practice. But what they did differently was offer better prizes for more referrals.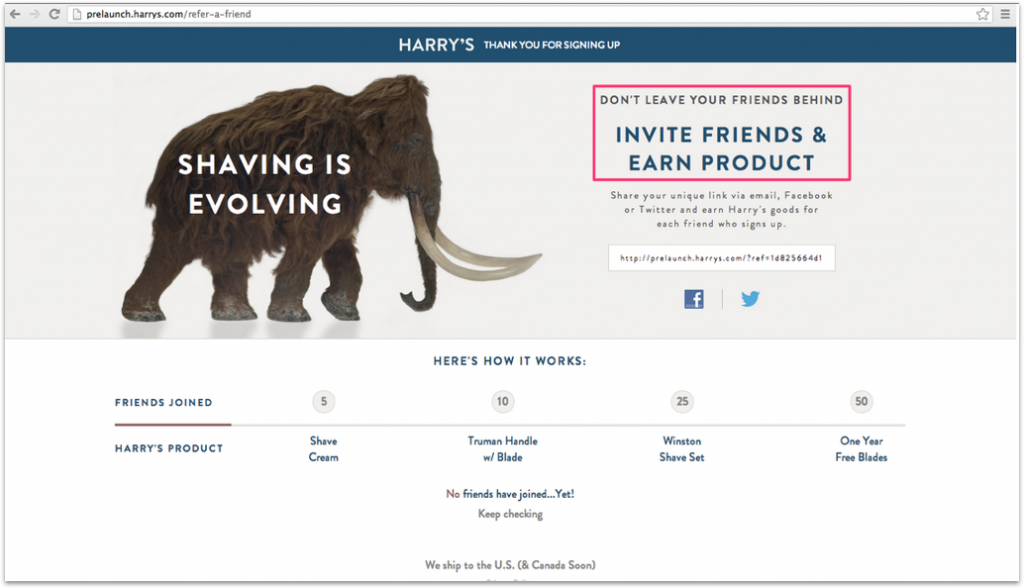 50 referrals got you a whole year of free shaving. The result: around 20,000 people referred around 65,000 friends.
Key Takeaways: Getting referrals is hard, so get creative with your referral marketing.
Consumers are at the heart of your marketing – That's why it's critical to understand what your consumers spend on and why. There's a Shopify app called Swell, which helps you create a points system for referrals.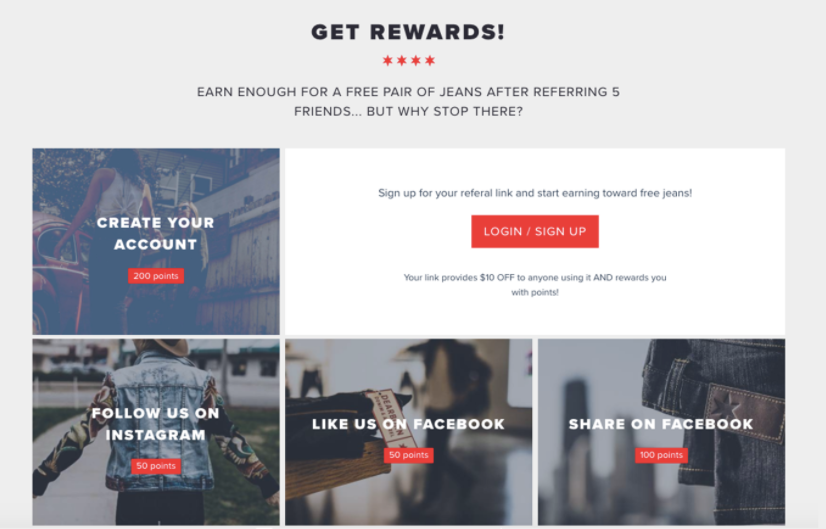 If you don't have a referral program in place already, you can use it to emulate the success of Harry's and build your own referral empire.
7. Driving online traffic to offline stores
I see more and more boarded up storefronts every month in my hometown. How about you? Yep, I thought so. It's quite sad, really. But it's still possible to get people into physical stores if you use an integrated marketing strategy.
Research from PlaceIQ shows an integrated strategy can be successful,
"Offline marketers are increasingly turning to search, social and in-app marketing to drive in-store sales.
Kisstixx, a lip balm retailer that sells products online and offline in stores like Target and Walmart, used an integrated strategy successfully. They visited local boutiques and trade shows to generate sales and market their product in person. Plus, Kisstixx created online ads which targeted specific groups using geo-locations to get people in-store to buy their products.
They eventually landed a deal on the show Shark Tank. But even before then, Kisstixx had generated $1 million in sales using their integrated methods.
Key Takeaways: If you have both an eCommerce and physical store, use both offline and online methods to get people in your physical store.
For example, optimize your Google My Business page on mobile to get local foot traffic.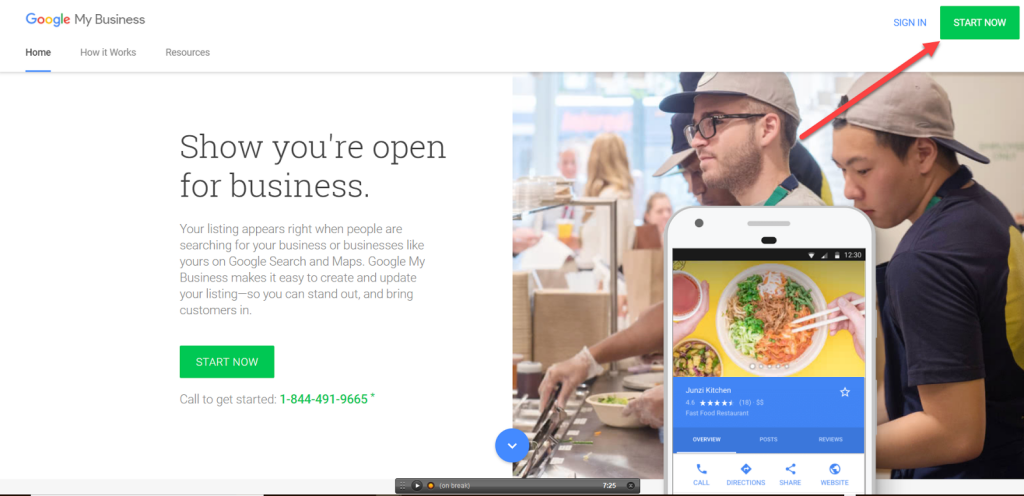 At the same time, go to trade shows and attend events to spread the word about your products.
Important online influencers and contributors may even be at said events and can help you expand your business even more.
8. Augmented reality
Because the use of AR is so new for brands, we don't have much data yet in terms of ROI. But the market for VR and AR will continue to grow in the coming years.
Here is a revenue forecast for these technologies: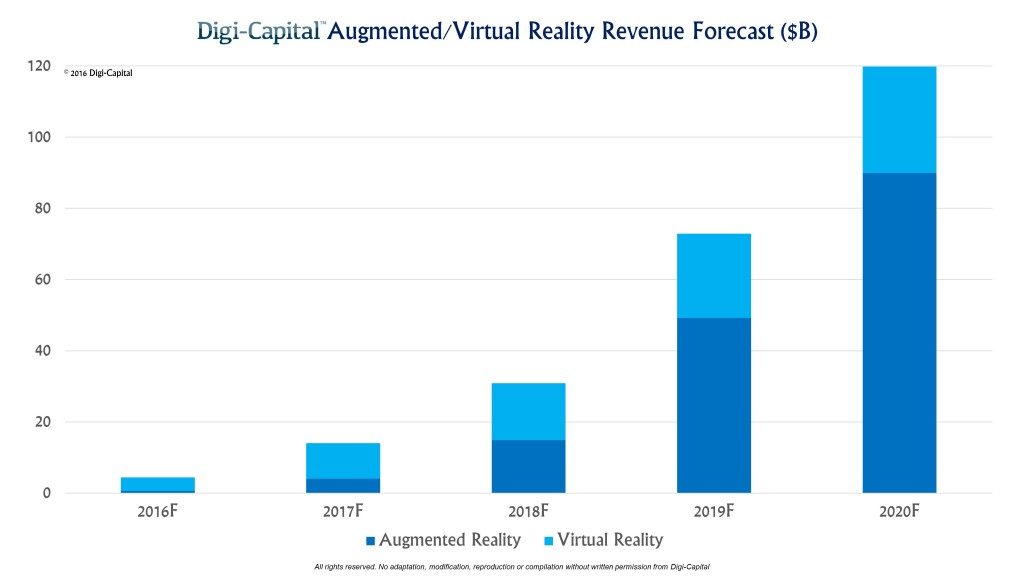 As you can see, by 2020 it's going to be big. You may have seen that large firms like Ikea and Snapchat have ventured into VR/AR. But it's not just huge, international brands that are dabbling in this realm.
Home and lifestyle shop Magnolia Market has implemented AR in their app. The ARKit was integrated with their app by Shopify's AR team.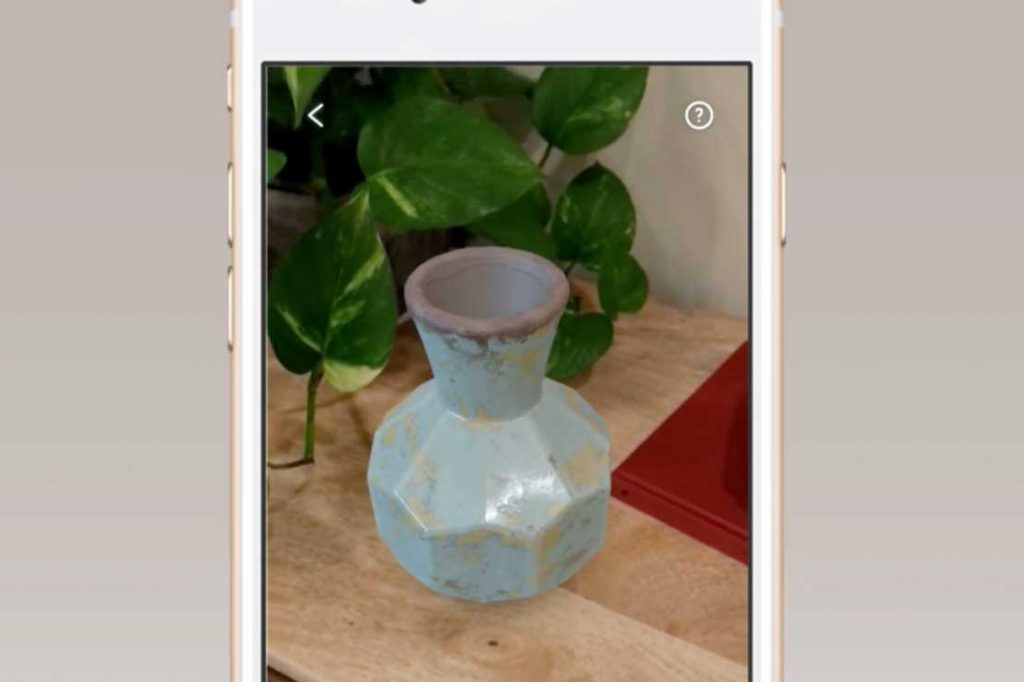 The team created 3D models of Magnolia Market products. Users can now see how these products would look in their homes. It's just like when you see a Pokemon in Pokemon Go. But this time, it's with vases on your cabinet.
The AR is there to encourage consumers to make a purchasing decision by showing a real life look at the product.
Key Takeaways: AR can work well in a number of niches.
From beauty to kids' stationary, big retailers are putting it to use. Stay up to date with innovative technologies and discover how they can be applied to your brand.
9. Voice-enabled Content
You've probably heard of a little thing called voice search. It has definitely been shaking up the digital world as it becomes more popular. In fact, 40% of millennials are already using voice search.
So you need to make sure your store is not just compatible with voice search but also optimized for it.
HubSpot says, "It's critical to optimize your business for voice search in 2018, or you could lose the vast majority of consumers who choose to shop through voice-activated devices." Such devices include Google Home and Amazon Alexa.
Men's fashion brand Perry Ellis has developed a unique way to exploit voice search. Their voice-activated personal stylist, Ask Perry Ellis, is now on Amazon Alexa.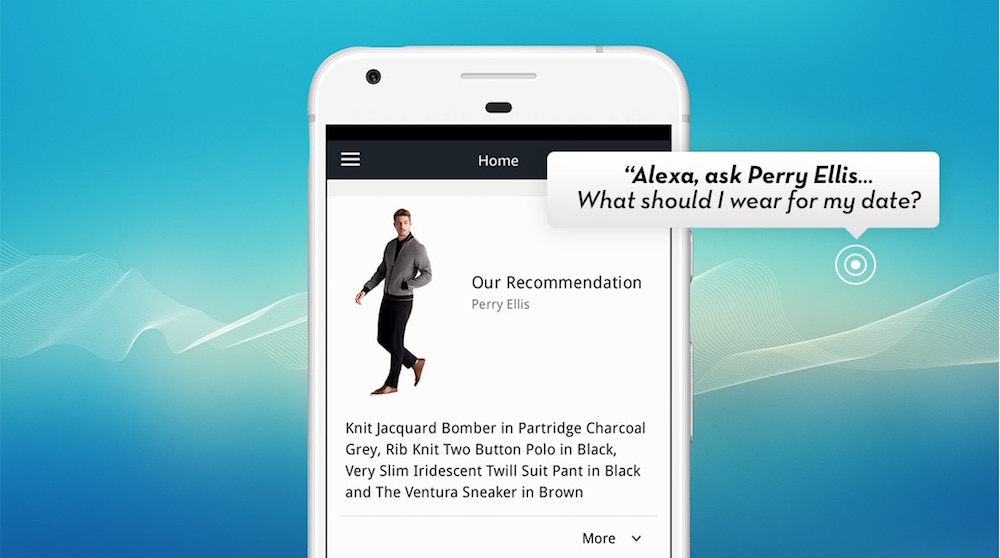 All you do is say, "Alexa, Ask Perry Ellis what should I wear to…" and add your occasion. It then makes a suggestion, taking all the variables into account such as weather and dress code. It's fascinating to think that we all might have a virtual personalized stylist on hand one day.
Key Takeaways: If you can create an Alexa or Google Home app like Perry Ellis, you could potentially expand your company to new markets and consumers.
At the very least, be sure to optimize for voice search so you don't lose any customers.
This means you should take into consideration the type of voice queries people might make and use them to create FAQ pages and conversational keywords.
eCommerce strategy summary
Innovative marketing and sales techniques are fueling the continued growth of eCommerce. Some brands are on the cutting edge, using creative, unique and even futuristic marketing and sales techniques to drive their eCommerce strategy.
You can emulate these techniques:
Introduce mobile-first channels
Use multiple sales channels such as marketplaces and social media to increase sales.

Generate hype for your product before it goes on sale using landing or splash pages.

Use Facebook Messenger bots as a means of conversational commerce.
Be creative when it comes to referral marketing – try gamifying the experience.
You can also drive people to your physical stores using online marketing.
Get on board with the hottest trends such as augmented reality.
Optimize for voice search because it's only going to become more important.
Where do you start? Pick a eCommerce strategy and discover how it could align with your company