We've taken years of expertise in SMS marketing and condensed it down into SMS marketing templates that only make it easy for you to get started, but also show proven results for so many Recart clients. 
Brands Grow Faster With Text Marketing
Schedule a free demo of Recart and get your SMS marketing up and running in 3 days.
6 SMS marketing templates and flows
We've got lots to cover so let's jump straight in and take a look at the top 6 SMS marketing templates and flows that are tried, tested, and designed by professionals.
1. Welcome flows
It's important to greet your customers and welcome them as SMS subscribers. Doing so sets a personal tone for your brand and provides a little insight into what sort of interactions your customer can expect from you. 
There are a few ways to create a great Welcome Flow but one of our favorites is the brand-building kind. Providing some brand history, company vision and educational content upfront fosters trust and loyalty. This works particularly well for beauty, health, and wellness brands where product understanding and a brand's values play a large role in a customer's purchase decisions.
Take a look at this SMS marketing template welcome flow that does just that: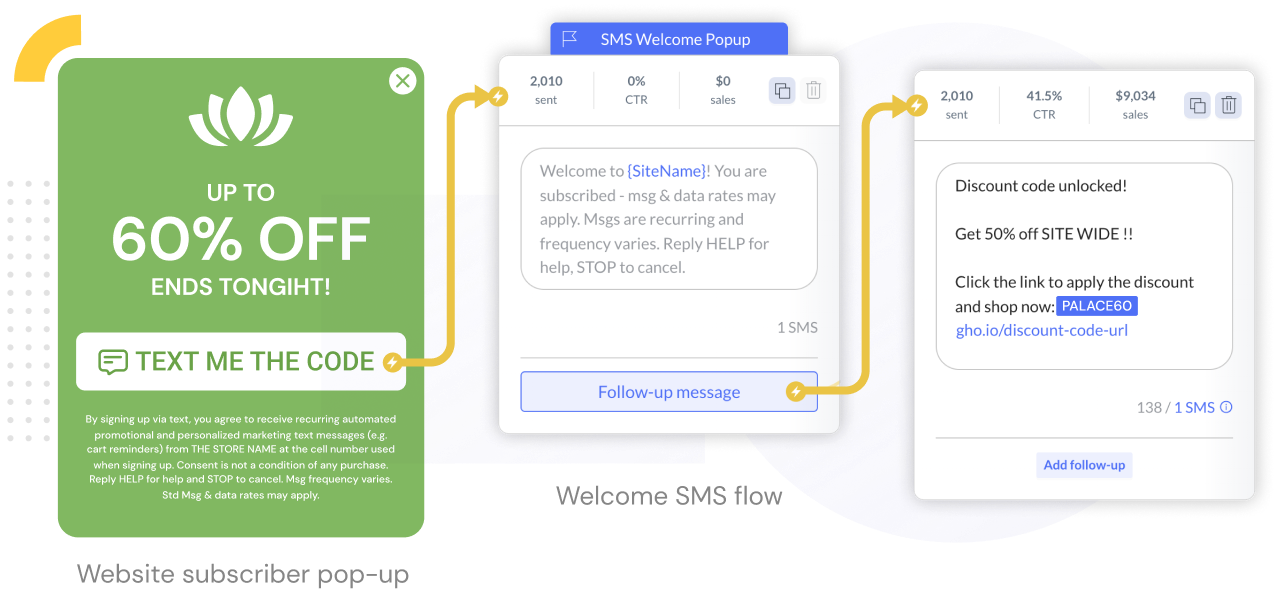 2. Exclusive sales and early access templates
When a customer feels heard and special, you've got a foundation for a good, long-term relationship. This can be achieved through communications that offer exclusive offers, membership deals, and early access to new products and specials. 
Recart has a great selection of templates for exactly this. Two of our favorites are our VIP membership flow and our Early access flow. Check them out below: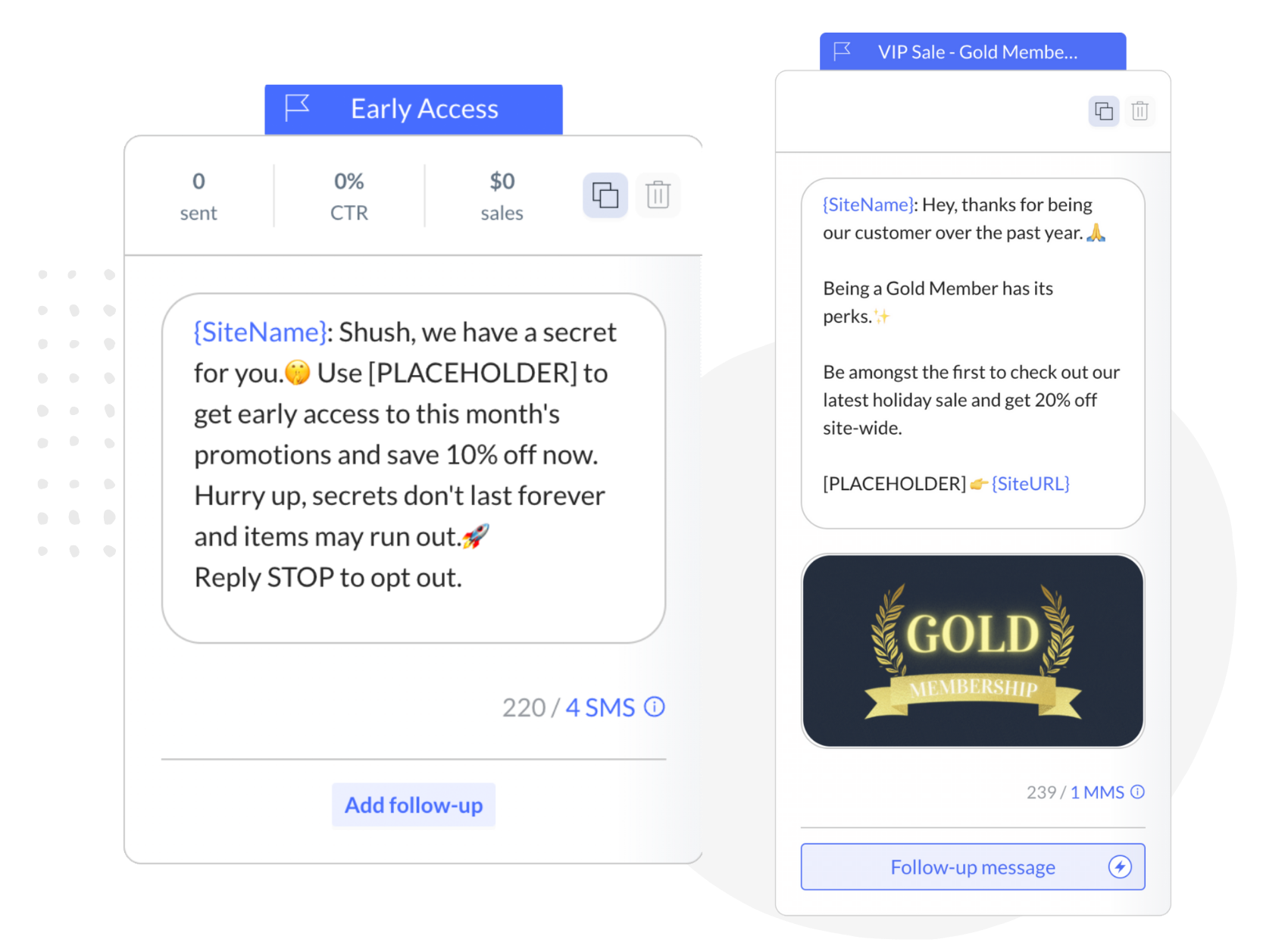 3. Customer loyalty boosters
Go even further with customer loyalty by creating a customer segment for your VIP customers based on their spend amount or any criteria that make them a VIP for your business. Plus, because you know these customers love your products or are big spenders, you can be sure a discount will go a long way and be appreciated. Try this template for a VIP discount flow that will keep your customers coming back for more!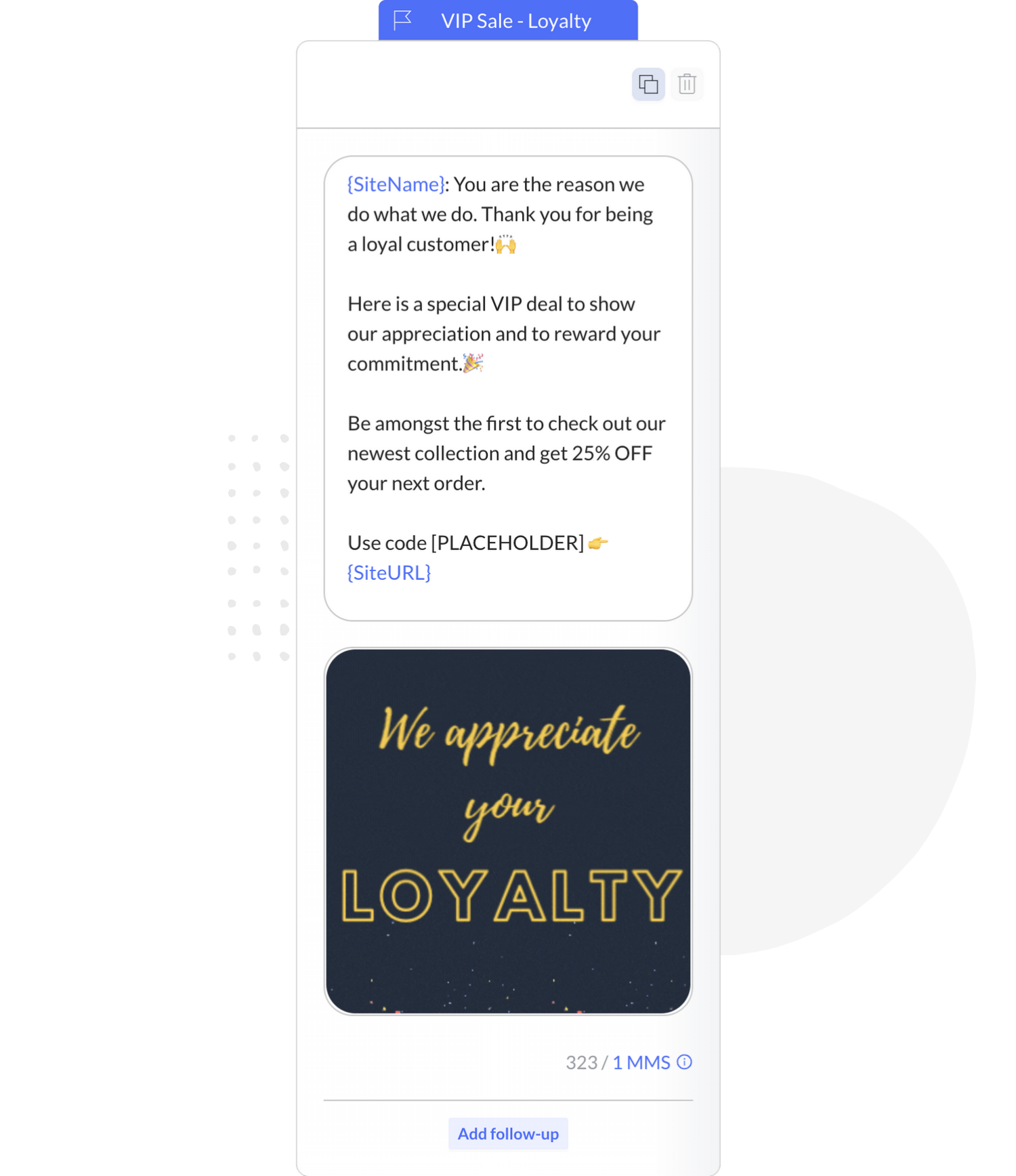 4. Tactical sales and promotion options
Everyone loves a holiday sale, a themed discount, or a special celebration. It's important not to miss out on these tactical opportunities as they are the perfect reason to offer your customers something exciting. Whether it's something fun like National Love Your Pet Day or a well-known event like the Super Bowl – we're confident these days can bring big wins for your revenue.
You can also benefit from multiple flows for the same holiday, take a look at this three-part strategy template flow for Valentine's Day.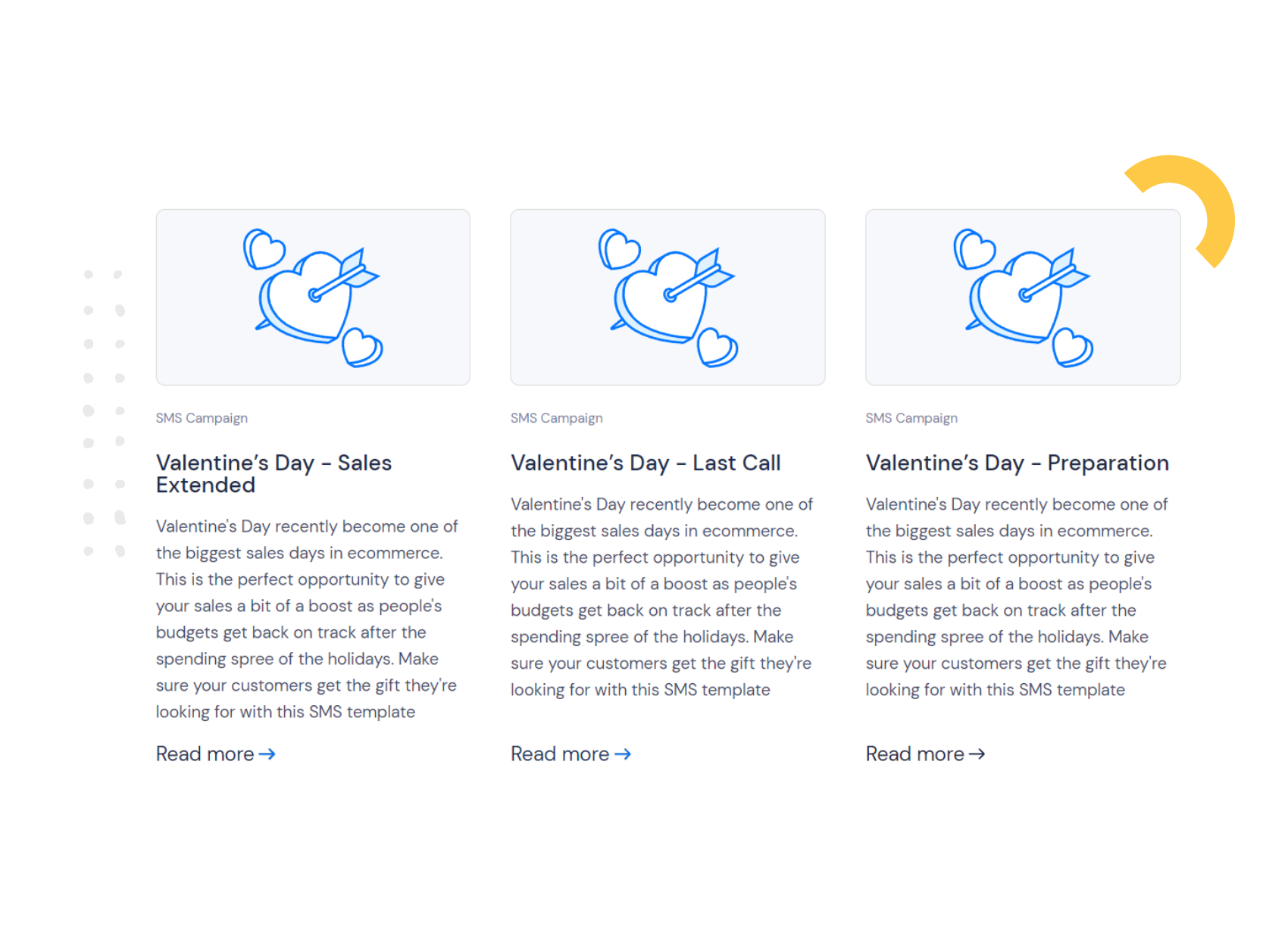 5. Templates for giveaways or competitions 
Running a giveaway is one of the best ways to boost sales and is easy to set up using this SMS flow template. Pick a prize, write the rules, set a deadline, and invite your customers to participate. Not only will with get your customers excited but can also encourage your new subscribers if you advertise the giveaway using a web pop-up built by Recart.
6. Abandon cart SMS flows 
These flows are definitely one of the most successful setups you can use. Plus, they're automated so you can just watch your abandoned cart sales pour in. Recart will help you set up a behavior-based, highly engaging automated flow that has proven to engage shoppers, and motivate them to spend more. These simple but effective flows have almost 100% open rate and 30% click rates!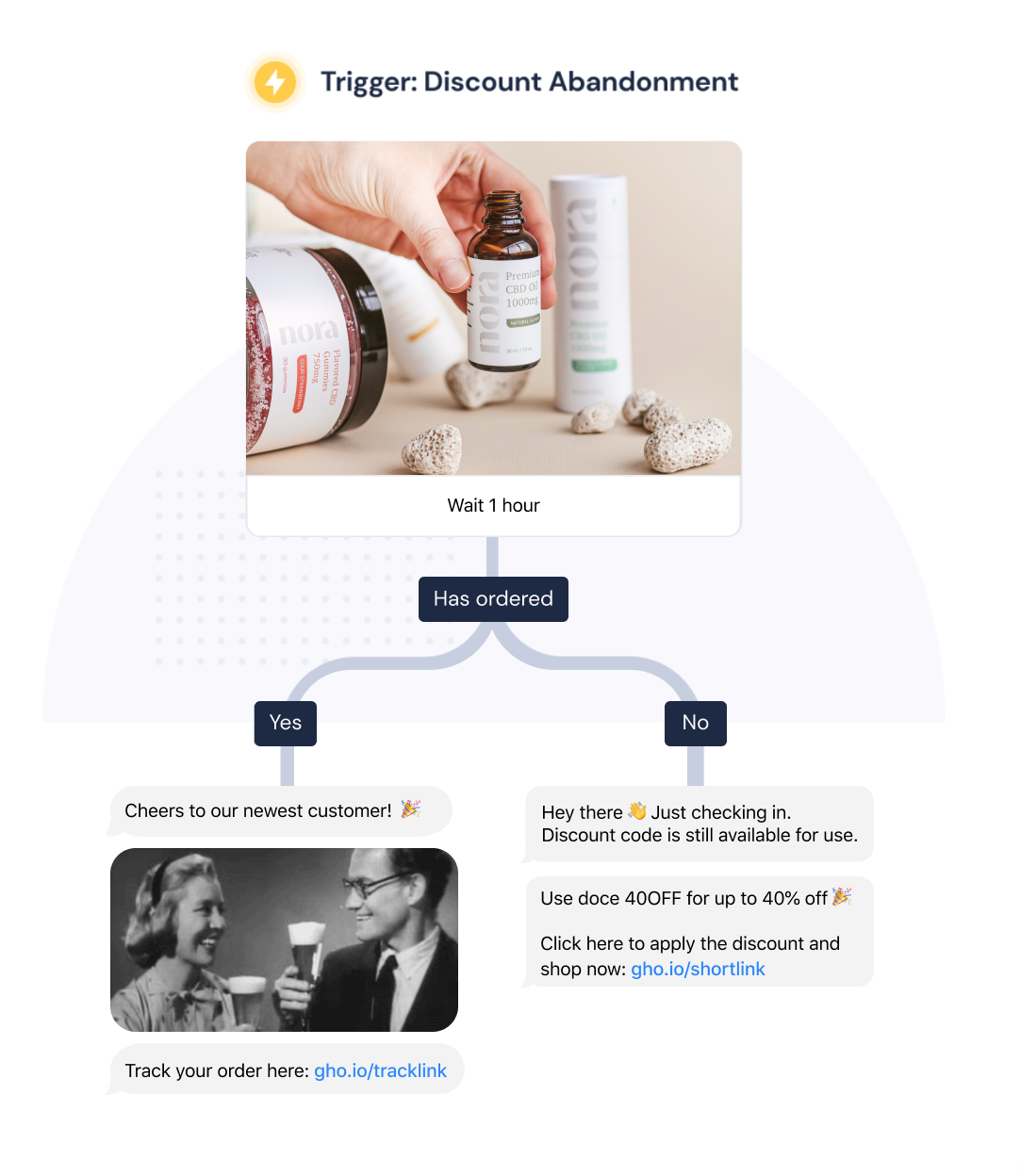 With these tips and templates, you'll be an SMS marketing master in no time. Although we don't expect you to get it all first try, so Recart will do it for you. You'll get a dedicated Customer Success Manager to not only help you with a strategy based on your business needs but also create these flows for you!
There's really nothing holding you back. Book a live demo with us to discover how SMS marketing will benefit your business.
Brands Grow Faster With Text Marketing
Schedule a free demo of Recart and get your SMS marketing up and running in 3 days.