As Shopify store owners, you have the world at your fingertips with a massive range of apps, tools, and channels. But some tactics have gone from "nice-to-have" to "must-have" in the last few years. And while specific channels, like email, will never go out of style, others, such as SMS, are leading the way and proving themselves with unparalleled results. 
Okay, but why eCommerce SMS? Simply put, it will help you drive more revenue, build loyalty, and increase retention. And with more and more shoppers going mobile-first, SMS is the best channel for direct and personal communication. It cuts through the notification clutter and chaos and is delivered right into the hands of your customers (who check their phones an average of 47 times a day).
Besides these, there are other benefits to SMS marketing. Let's take a look at 5 of the top reasons Shopify store owners love SMS.
1. eCommerce SMS saves you money
While in most cases you pay per SMS, the minimal fees become a non-concern when you experience the results. Most of our SMS customers see an average of 44X ROI from their SMS Marketing efforts, and some even as high as 120X. There aren't many marketing efforts you can implement in just a few days that will get you this level of return.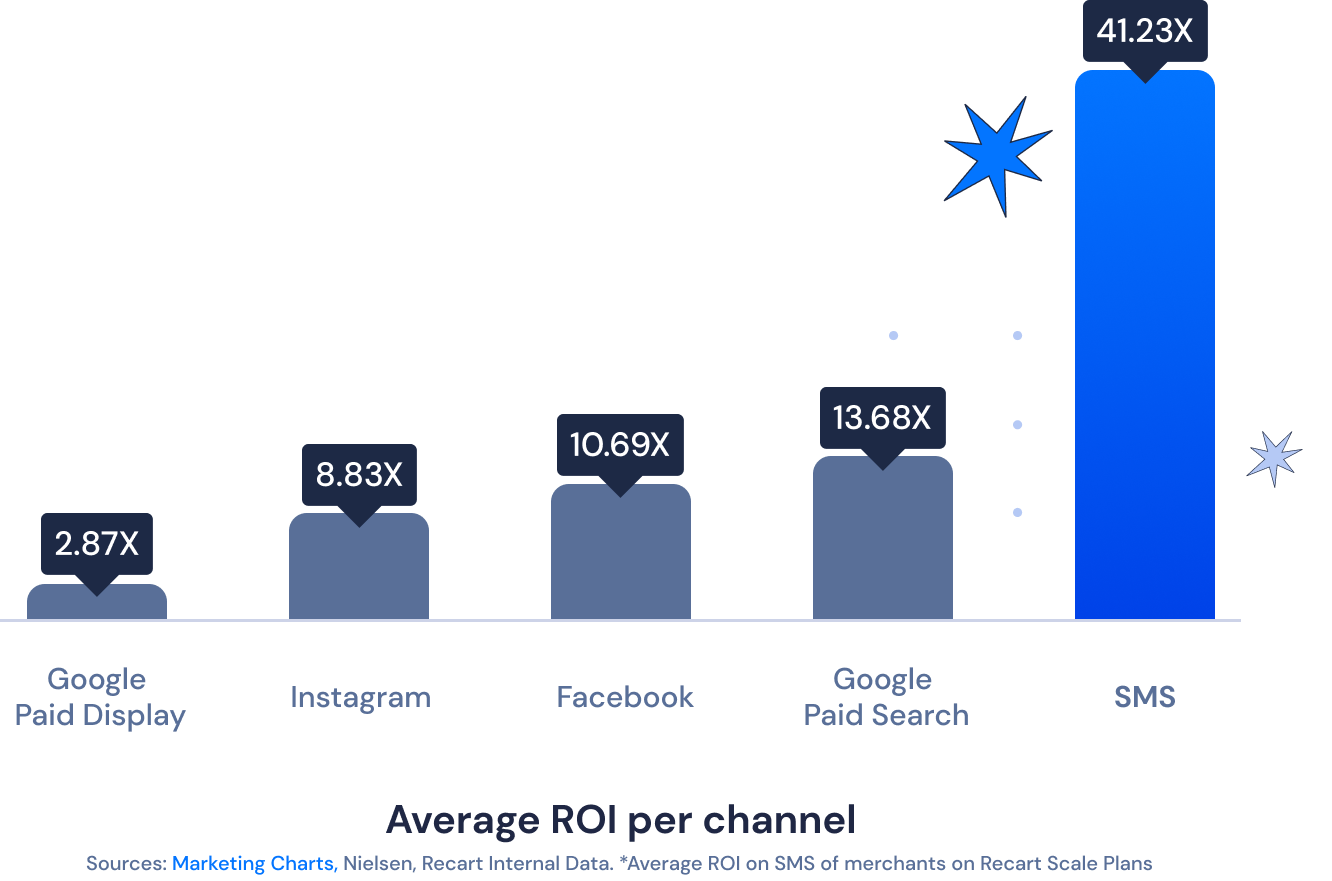 2. It adds to any marketing mix
SMS is a fantastic omnichannel addition. No matter the marketing strategy you have in place, SMS will enhance and grow your success. Let's look at 2 examples we encounter often. 
Paid advertising
Besides the rising cost (which we know you're very aware of) the most significant challenge with paid ads is that you're pretty blind to who you're speaking to and it's difficult to turn anonymous clicks into paying customers. eCommerce SMS can help you convert those clicks into real first-party subscribers and will start nurturing them the minute they sign-up. 
Incentive-driven SMS opt-in features hold the key. From website or landing page pop-ups to text-in keywords displayed in your designs, to links that you can add to your posts for 3-tap, compliant sign-up – these solutions see 10 – 15% conversion rates.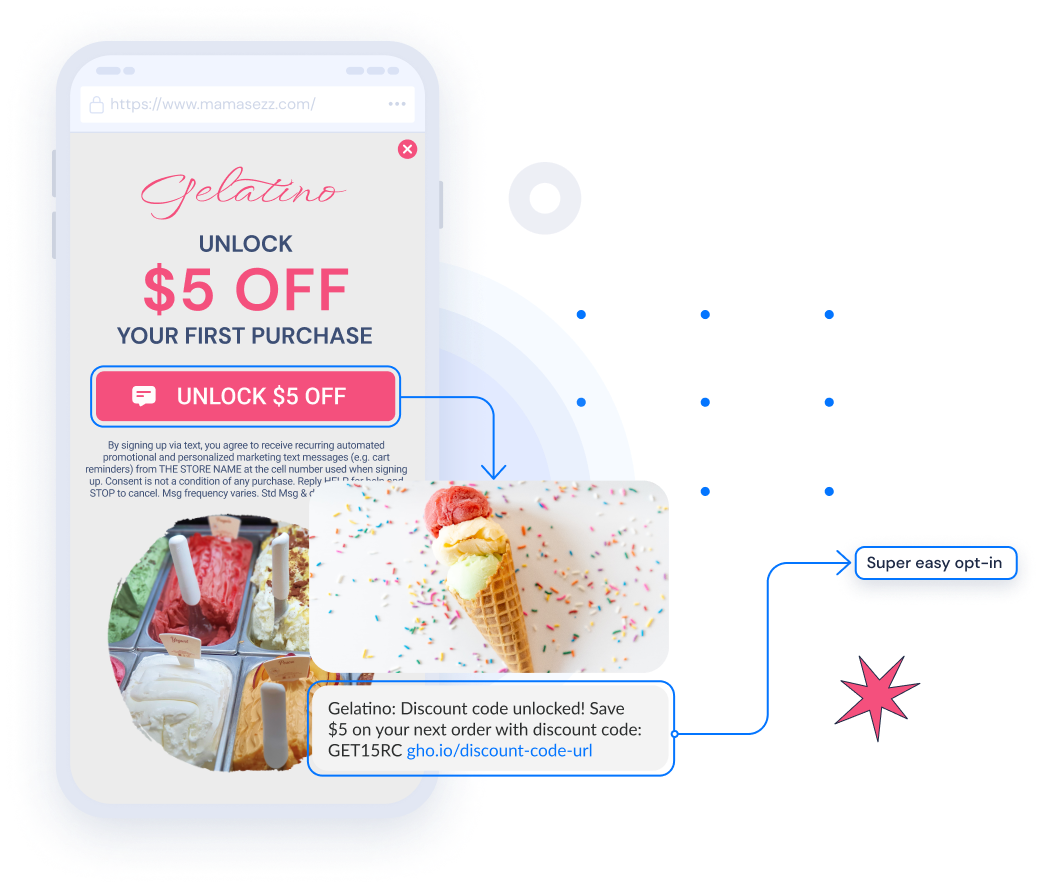 Email strategies
Just because we love eCommerce SMS, doesn't mean we hate email marketing. We believe these channels work well together or apart. You may also find that email and SMS work better at different stages on the funnel or to different audiences. (We recommend testing).
Here's an idea of how to split your channels:
Email: 
Long-form company news and updates

In-depth studies and education

Visual catalogs
SMS: 
Automated flows such as abandoned cart win-backs

Coupons and discounts (especially time-sensitive ones)

Short, tactical deals and specials

3. Boosts retention because customers ACTUALLY love SMS 
While many merchants are concerned that SMS is seen as spam or worry their customers will get annoyed, the reality is that 91% of consumers want to receive text messages from businesses.
The fantastic thing with SMS and its opt-in methods is that your customers are choosing to sign-up to receive your texts. They do so knowing they will receive personalized and relevant messages and offers. That's why you'll see such great results, you're speaking to your customers directly and they are ready and excited to receive what you're sending.
4. Personalized campaigns that improve revenue
We get it, personalization in marketing has become a bit of a buzzword. But because 80% of people are more likely to do business with a company if it offers personalized experiences, it's still something you need to embrace.
But instead of just inserting "first name', try to think about personalization from a customer experience perspective. Take a look at your customer journey, from website browser or nameless visitor to loyal returning customer. Ask yourself what customized journey is most likely to take people from point a, to point b, to point c.. and so on.
You can use one-off campaigns and automated flows to create personalized experiences, with targeted messages, based on their interactions with your business. 
Start with these simple segmentations to craft targeted texts:
New subscribers 

New customers

Cart abandoners

Loyal customers
(Not sure how to achieve this? We have experts that will do it for you)
5. Automated and one-off campaigns
Any good marketing strategy has an automated side and a tactical side. Automated marketing is vital because a lot of communication needs to happen quickly and is based on customer action – you can't send a pizza delivery confirmation 24 hours later.
Conversely, sending promotional information when the moment strikes is very valuable. What if you unexpectedly received a delivery of a much-loved item that was out of stock? A quick SMS to your VIP customers will let them know their favorite item is available, and that they are important to your brand, increasing your chances of quick sales.
Here are some of the automated messages you can set up.
Welcome messages:

Usually a friendly hello combined with an exclusive sign-up offer, these messages are sent immediately after someone opts into your SMS list.

Abandoned cart reminders:

Remind your customer they've left something in their cart. These are usually high-intent customers so messages like this tend to produce great results.

Clicked but didn't purchase:

One of the top performing automated messages is a follow-up for the customers who clicked on your SMS link but didn't buy. They showed interest so they're all warmed up and ready to go!

Winback flows:

You can re-engage customers who haven't ordered in a while with extra enticing offers.

Post-purchase messages:

Follow up your purchases with review or feedback requests. And because they've just received their product, you're top of mind, you could also invite them to join your loyalty program.

New segment:

If your customer joins a new audience list, such as loyalty, you can set up automated messages based on this action.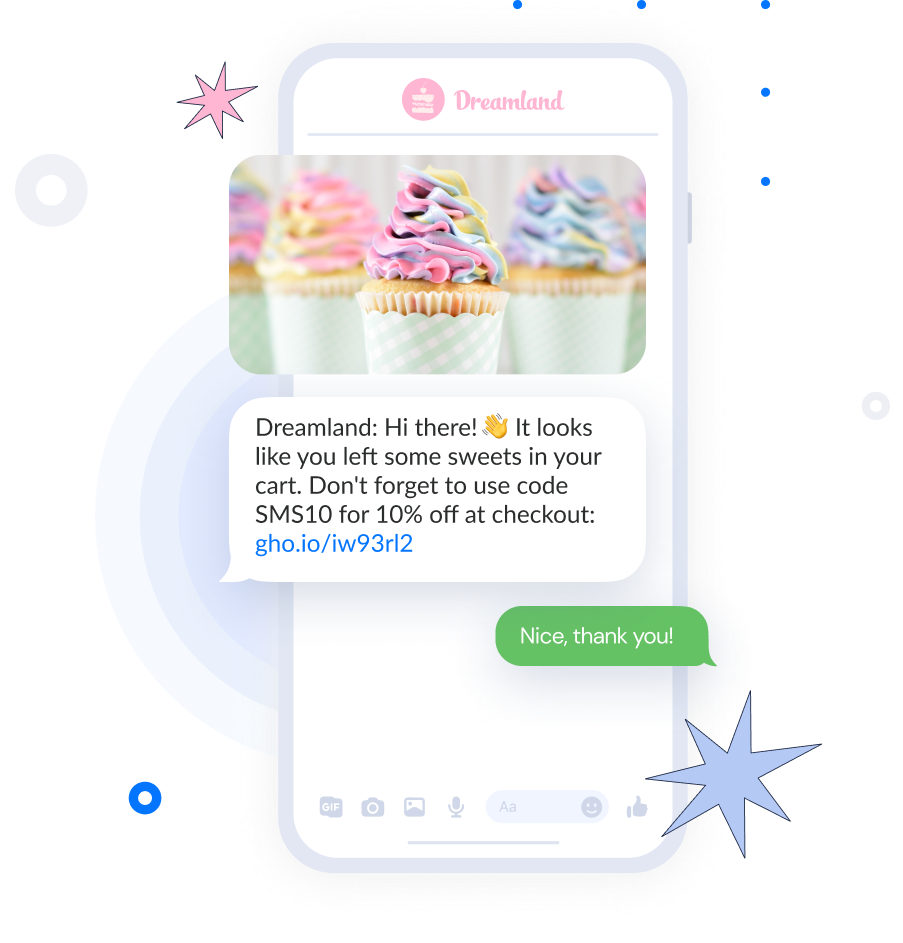 How Shopify stores get the most of eCommerce SMS Marketing
As mobile-first commerce grows, SMS grows with it. Store owners and marketers are recognizing that text message goes beyond transactional communication and are investing time and effort into setting up SMS marketing. 
With the right platform, sophisticated tactics are achievable within a few days. And with the right partner, you won't be doing it alone. Recart offer dedicated SMS Success Managers to help create, implement, and optimize your eCommerce SMS marketing strategy. We also offer ROI guarantees so you can get started risk-free.
Book a call with us so we can help identify what tactics to implement to see the most success for your business using eCommerce SMS strategies.
Brands Grow Faster With Text Marketing
Schedule a free demo of Recart and get your SMS marketing up and running in 3 days.