Getting your ecommerce store off the ground and generating an income is just the first step. And a difficult one. Scaling is where most ecommerce stores fail.
Their websites either aren't built to handle scaling traffic, automation, content, and sales or their inventory just isn't there.
Before you instantly attempt to ramp up sales through content or paid ads, you'll need to ensure your store is ready for it.
Here are four critical components to "check off" before scaling your store growth.
1. Improve site speed and uptime
One of the most important factors of being able to grow sales is providing great user experience that leads to a steady customer lifecycle.
If people don't have a good experience on your site, they won't come back.
And this is especially true for mobile visitors. 85% of users aren't willing to forgive a single bad experience on your mobile site. And with mobile traffic outshining desktop traffic, odds are, you are getting tons of mobile visitors: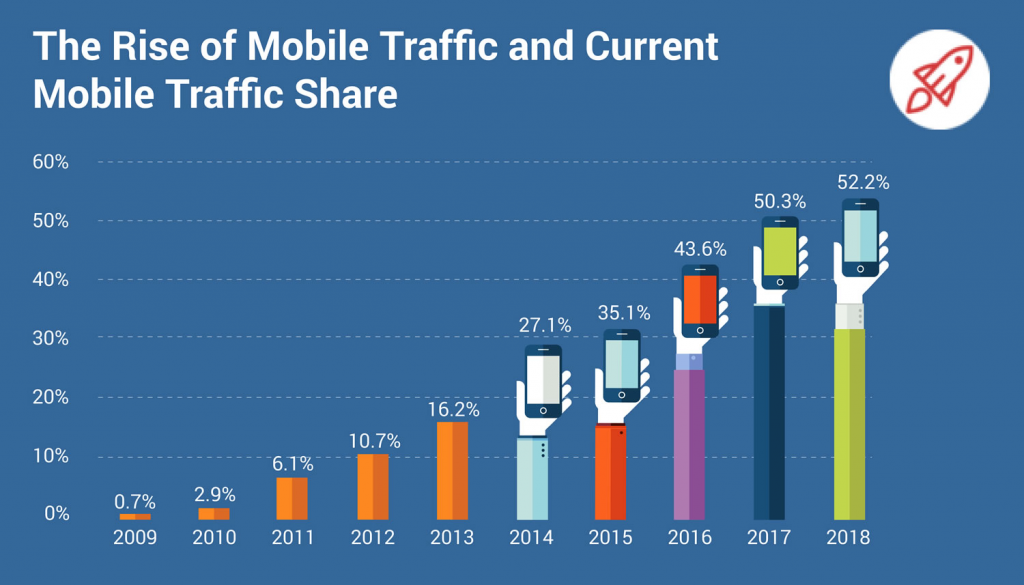 You can't begin to scale your traffic if your site isn't optimized for a stellar user experience.
That will only result in tons of bounces and wasted time and money.
You can't begin to drive traffic to scale sales if people are fed up before even considering buying your products.
So, what can you do?
Start off by attacking your website speed head-on. If your site doesn't load fully in under three seconds on both desktop and mobile, you can kiss those sales goodbye: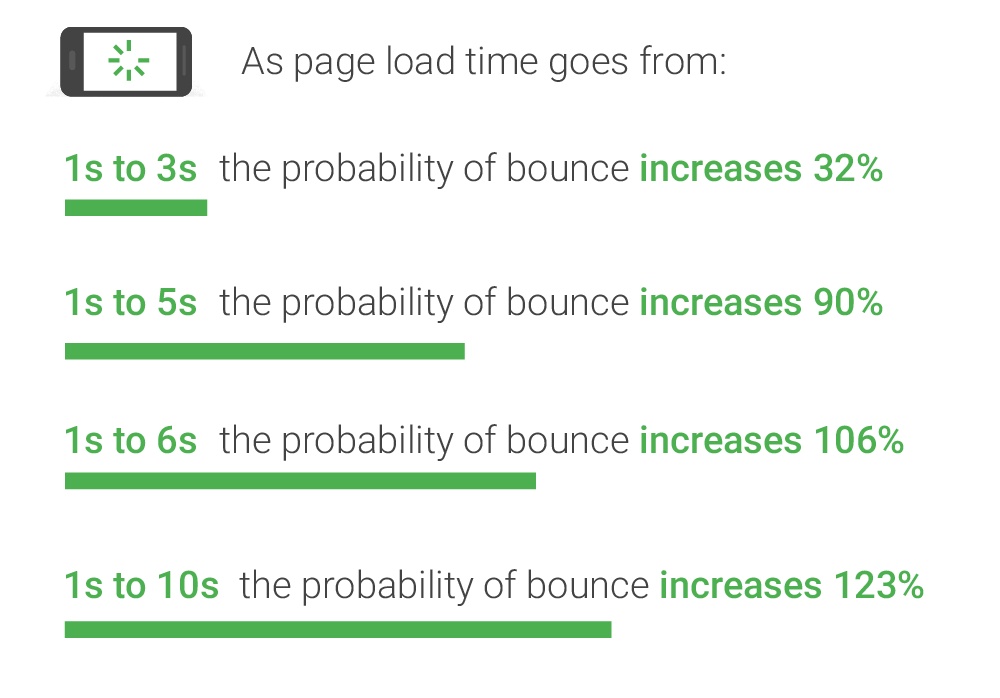 Don't think that applies to you? According to Google, the average site in every single industry is too slow: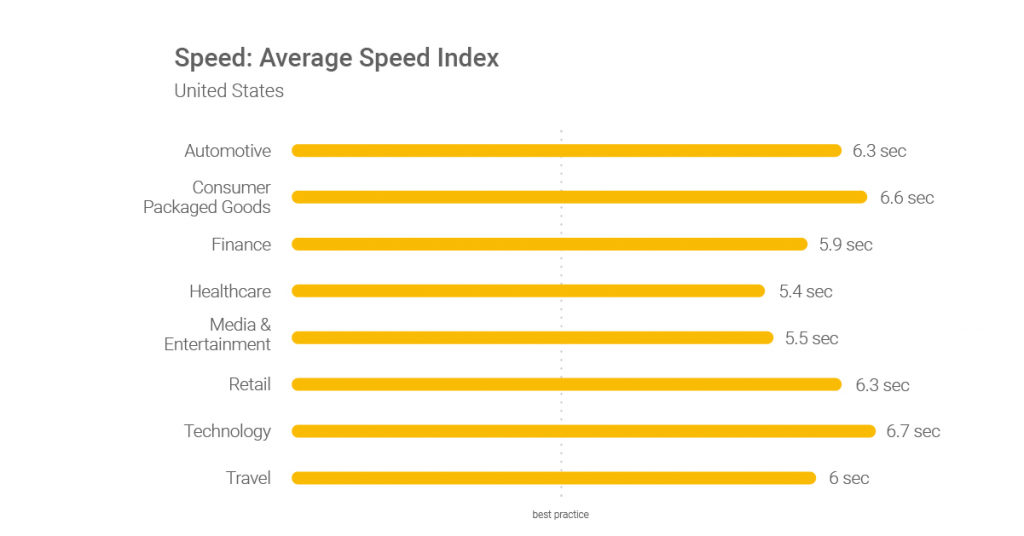 Speed isn't the only essential factor for a good user experience at scale. Uptime is just as important.
What's uptime? Uptime is simply the amount of time that your website is up and running on a given server.
What's a good uptime? The industry standard is 99.99%.
The cost of poor uptime and site speed are tremendous. Just ask Amazon who loses over $62,000 every minute they are down.
Uptime can only be improved through better hosting. If you are about to expand and scale, you'll likely need it. Thankfully, site speed, in general, can be optimized on your own. Try using reports like Google's Test My Site to improve lagging areas: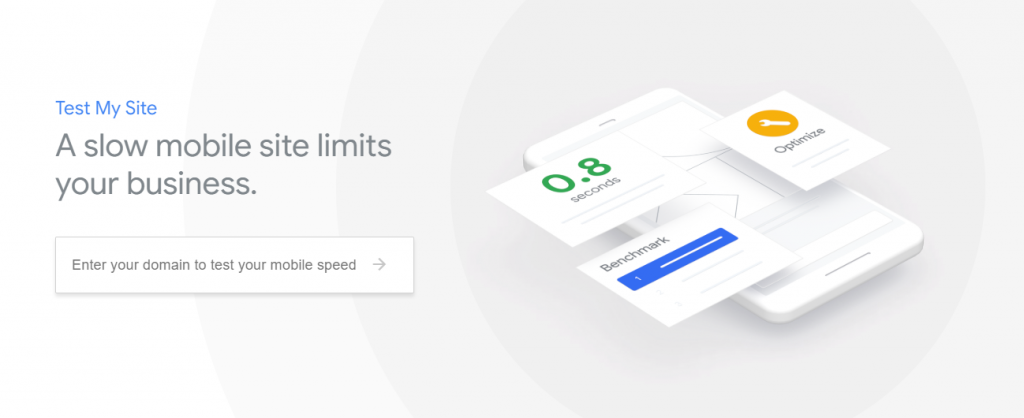 2. Address cart abandonment ASAP
Cart abandonment is the elephant in the room that nobody wants to address.
The average cart abandonment rate is a sky high 74.2% globally. Yikes.
And while cart abandonment rate doesn't tell the whole story for final purchases, it often requires you to spend more time and money to get them back to purchase, both raising your time to purchase and decreasing value of each customer.
If you already have issues with high cart abandonment rates, don't even consider a scaling plan. This will only result in a scaled cart abandonment rate.
The biggest reasons for cart abandonment are shipping, faulty discounts, and poor experiences in the form of unsaved information.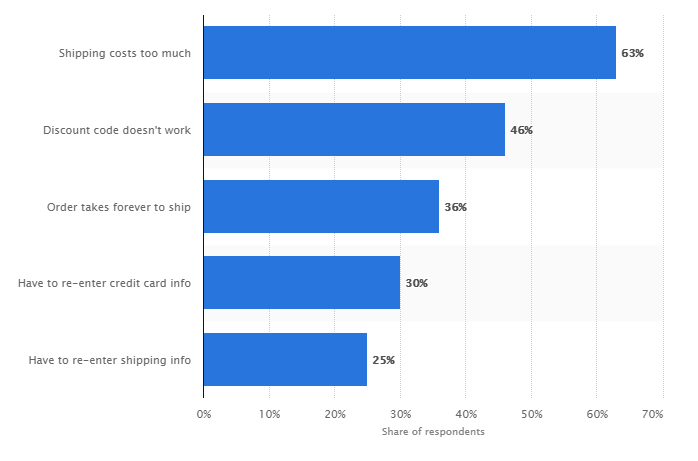 One effective way to combat cart abandonment is to address these issues right at the checkout process.
Rothy's does this with ease, communicating a clear process for their customers and preventing bounces: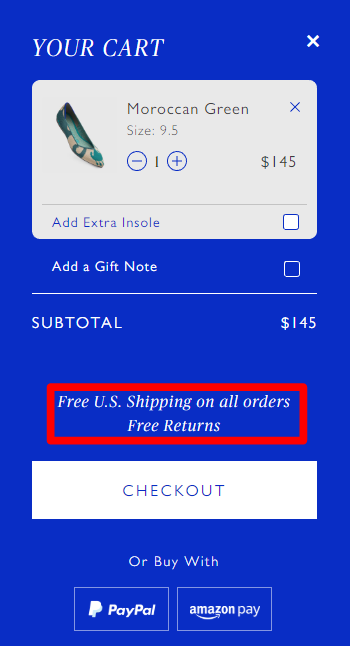 To make it easier, they integrate with PayPal and AmazonPay, allowing the customer to save information quickly and simply link their accounts, rather than typing out their shipping and billing info each time.
Cart abandonment is almost always caused for one reason: lack of information.
If you aren't clear from the get-go about your shipping, returns, costs, etc, your bounce rate is going to stay sky high.
Being transparent can go a long way with your current and future customers.
3. Establish impeccable customer service
Customer service is potentially one of the biggest factors in brand approval and success.
Time and time again, online stores that provide great service produce loyal customers.
And loyal customers have a high lifetime value, allowing you to spend more on customer acquisition in the future. It's a no-brainer.
And you already know that acquiring new customers is far more expensive than pleasing existing ones.
More than 50% of consumers will ditch a purchase or brand due to bad customer service. One third will leave your brand for a competitor after a single instance.
Consumer behavior demands better customer service, and if you can't provide it, you better hope you're the only product in that market.
Make sure that you provide customer service options on every channel you occupy. For social media, that could be answering DMs on Twitter or offering chat on Facebook: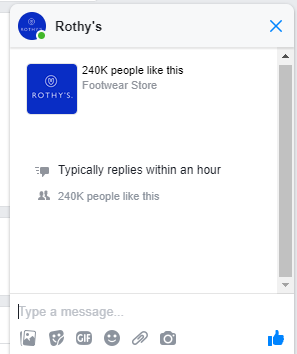 On your store website, include proactive customer service, like a knowledge base (something that 81% of customers use to solve problems), where you tackle common concerns before they pile up, leaving your reviews and ratings clear of negative social proof that could detract from your brand:
When it comes to communicating with already established customers, personalize the interactions with content they want based on past purchasing history: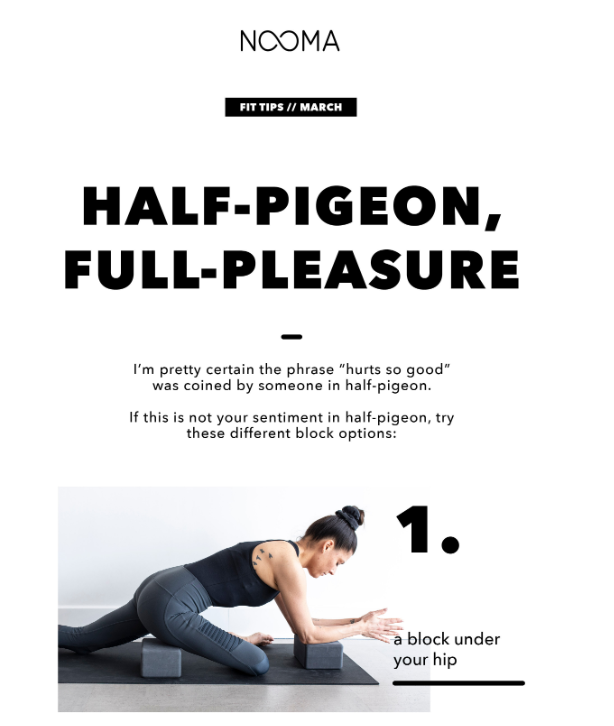 Scaling your ecommerce sales presents challenges. But providing a foundation of great customer service can help you mitigate potential issues, build a great brand reputation, and please both new and existing buyers.
Before you attempt to scale, be sure your customer service can scale too.
4. Improve your on-site content
Scaling your sales requires you to both attract new customers and please existing customers.
It's a delicate balance that requires time and effort in content production.
And if your current content is poor, you shouldn't begin to (and probably can't) scale.
Why?
Scaling your business and driving more traffic only for them to be met with poor content is a recipe for negative brand awareness.
You don't want fresh buyers landing on your site looking for good content to be let down.
And creating content is harder than ever before. This study proves it. And this one.  Generic content won't cut it: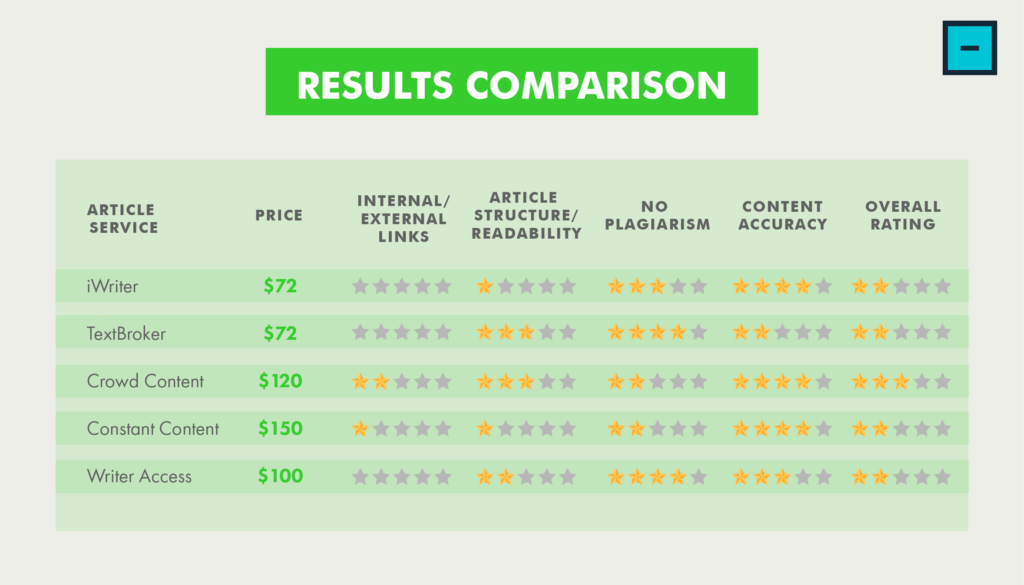 Most people only read for 15 seconds online. If your scroll maps are looking like this….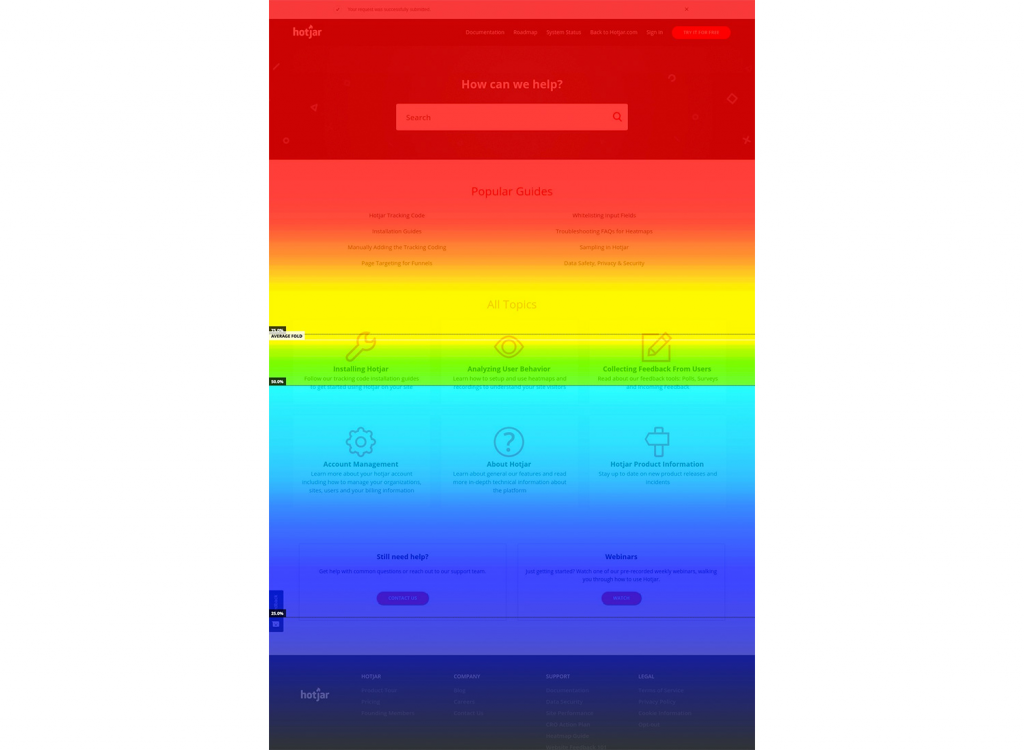 …you need to improve your content before scaling, and to be able to continue scaling.
If you aren't sure where to begin looking for content, do some competitor research with a tool like SpyFu or Ahrefs: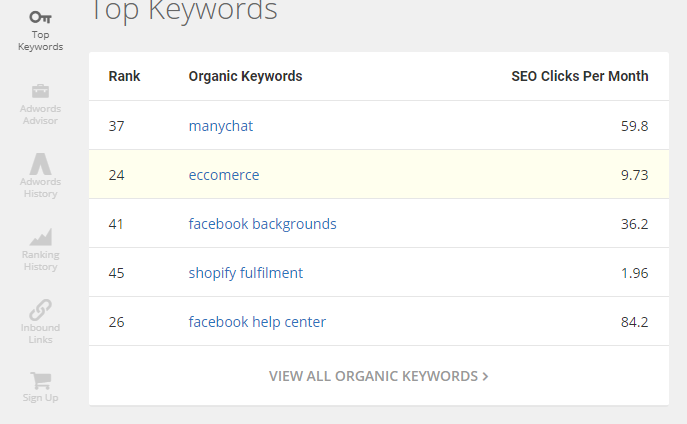 Take a look at your competitor's best ranking organic keywords. Find their content and see what elements they include.
Examine their copywriting and note factors like tone, intent, and style. These can make a big difference in brand perception.
Are they writing long-form content? Do they provide videos in their content? Do they podcast?
What differentiating factors can you add to create better content?
Include more visuals. Keep up to date with the latest graphic design trends (check these ones too) and update your site. Make it fresh, fun, and inviting.
Conclusion
Scaling an ecommerce store is no cake-walk. Even after you've prepped inventory and supply chain for it, your online store itself might not be ready.
Before attempting to scale, ensure you are improving site speed and uptime. These two big factors can dramatically impact your return on spend and overall profitability.
Address your cart abandonment rates before you scale. If you don't, you'll only be scaling your cart abandonment, not sales.
Be sure to establish a history of great customer service to build lifetime values and reduce acquisition costs.
Are you ready to scale?