What's Recart?
Recart (initially named GhostMonitor) is a Software-as-a-Service that generates sales for e-commerce stores. It was founded in 2015, officially launched in May 2016 and 19,000 merchants have installed it so far globally. We've just crossed 2,000 paying customers and $1m in annual recurring revenue and have already made $45,000,000 in extra sales for our clients.
Recart tracks and analyzes webshop visitors' behaviour and sends marketing campaigns via email, push notifications and Facebook Messenger. The new, sexy Messenger bot topic and the insane results of the Messenger platform recently made Recart one of the fastest-growing Shopify apps. Check out the Recart app here.
What's the opportunity?
We're looking for an experienced engineer to join us as a Senior Software Developer. If you want to be part of a fast-growing startup, working with the latest technologies and making hard decisions every day as we discover new territories and reach ever-higher levels of scale, the development team at Recart is the one for you.
We're currently growing by 4,000 stores a month. It does not only mean more cash in the bank but also very exciting scaling challenges for the development team. We also have ambitious plans for the future so we need to you to help us develop new features too.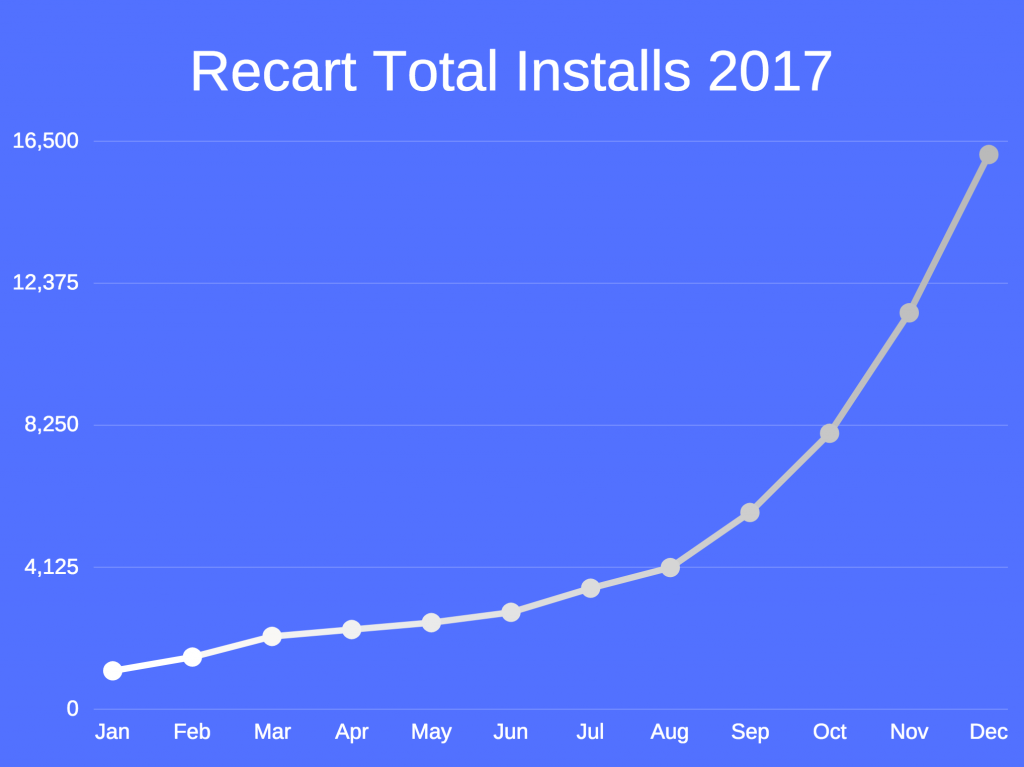 We are excited about the latest technologies, run experiments to test possible new solutions and keep ourselves up-to-date. The small team size and our work culture lets us move fast and respond to market changes quickly. Obviously this requires an agile mindset and being keen on researching and playing with new stuff.
Our office is located in Budapest (13th district, Lehel square). We're flexible in terms of work hours and remote work, but we find working together in the office to be the most effective and fun.
Currently we have 14 people in the team but we keep hiring and expanding. We aim to maintain an environment where you can feel good, be yourself and go through intense professional development at the same time.
What about the tech stack?
We have an auto-scaling distributed system with about 60 microservices
We use Kubernetes for container orchestration
Our production back-end services are all written in NodeJS
We utilize many AWS services, such as EC2, SNS, SQS, S3 and Lambda
We use a combination of MongoDB, DynamoDB, ElasticSearch, Redis and Memcached
On the front-end we have a React-Redux application
What will I do?
Write great code 🤓
Participate in design & architecture discussions
Conduct code reviews
Help other team members with feedback and advice
Influence the direction of Recart, help set strategic goals regarding the infrastructure and architecture of the system
Get involved in scaling the engineering team, shaping processes and evolving our culture
Balance trade-offs between business and IT needs and find pragmatic solutions
Help the product development team by providing insights into the possible tech solutions, their implications and the required effort
We like big thinkers with small egos who believe in our goal to build a uniquely impactful, long-lasting tech company.
What skills do I need?
Vast experience in software craftsmanship
Familiarity with the challenges of designing distributed systems
Experience with NodeJS is a great but not necessary
Ability to communicate clearly with colleagues and partners
The ability to express yourself in English both in writing and speaking
What are the benefits?
Salary depends on your experience level but will be in the range of 500-700k HUF (net)
Regular compensation reviews: we don't want you to ever worry about money
Equity in a fast growing start-up
Flexible and unlimited holidays
Convenient office environment (fun zone, fruits, snacks, massage…)
Medicover private health insurance
Is there something else that's important to you? Talk to us, we're flexible 🙂
How can I apply?
Email us at career@recart.com! Send us your CV and tell us a bit about what interests you most about this job and how you could make a difference here at Recart.