There's no doubt, Messenger has already become one of the most powerful marketing channels for Shopify stores. Recart took what's working in email marketing and brought it to your store via Messenger. With Recart app, you can:
Build your Messenger list straight from your Shopify store
Subscribe your customers to automated Messenger campaigns
Send them Abandoned Cart Messenger Campaign if they ditch their cart
Send Messenger Order Receipt with a discount code incentive for making another purchase
Notify them about their fulfillment status via Messenger…
and from today, you can also send them:
Instant Messenger Campaigns! ?
Trust me, everything changes in your store's marketing with Recart's Instant Campaigns for Messenger.
What's an Instant Messenger Campaign?
An Instant Messenger Campaign (Broadcast) is a Messenger campaign sent to all your Messenger subscribers. It's like an email newsletter. You can use it for announcing new arrivals, sending out your fresh content, broadcasting news, promoting flash sales and much more! But there's a huge difference between email newsletters and Messenger campaigns: The Messenger gets opened by 90% of your subscribers.
Stores can use it for announcing new arrivals, promoting sales, sending news & changes about their store.
How can I send an Instant Messenger Campaign?
1) First of all, you need the Recart app working in your Shopify / WooCommerce store.
2) Then, you need to grow your Messenger list. We offer a great solution to grow it quickly. We suggest waiting to send the first Instant Messenger Campaign until you grow your list to 100 subscribers. 
3) Go to Recart Dashboard – Messenger – Instant Campaigns.
4) A 'New Arrivals' template will be waiting for you pre-built. If you don't want to announce new arrivals, you'll need to redesign the entire message. You can use three text fields and a Facebook card with an image and a link.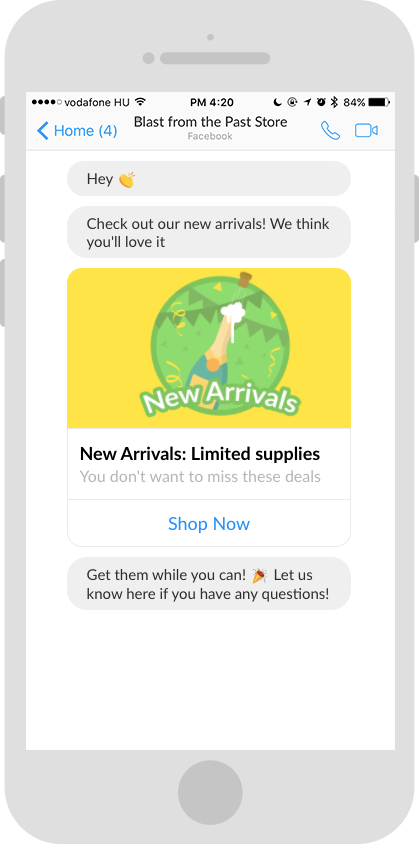 5) Craft your message and test it! See how it looks by clicking 'Send Test Message'. A test message will arrive in your Messenger inbox in a few seconds.
6) If you love what you see, it's all good to go!  Go to the bottom of your preview and choose Schedule or Send Now.
Who will receive this message?
This message will be sent to all Messenger subscribers. They can be visitors, cart abandoners and customers as well.
Segmentations will be available by the end of November. 
What can you send in Instant Messenger Campaigns?
You can send any message to your subscribers, just like an email newsletter. However, your Messenger subscribers opted-in to order updates and news, so please don't be over-promotional. Pay attention to the user experience and send quality content and news to your subscribers. It's like an email list, if you're too promotional, the Messenger list will burn out too, and your delivery rates will decrease dramatically.
Here are a few example campaigns to boost your next Instant Messenger Campaign:
Example #1: New Arrivals
By default, Recart offers you the pre-built New Arrival template. It's great for announcing new arrivals in your store: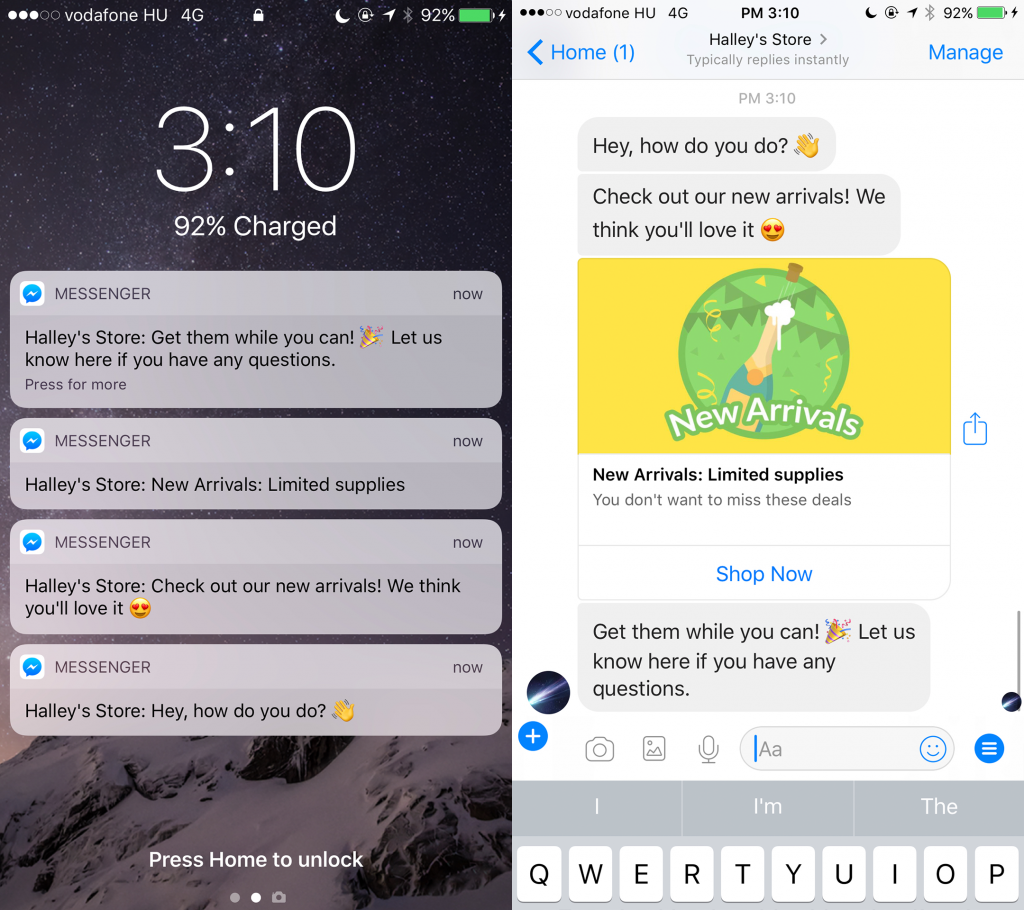 When you're about to announce a specific new product, you can send something like this: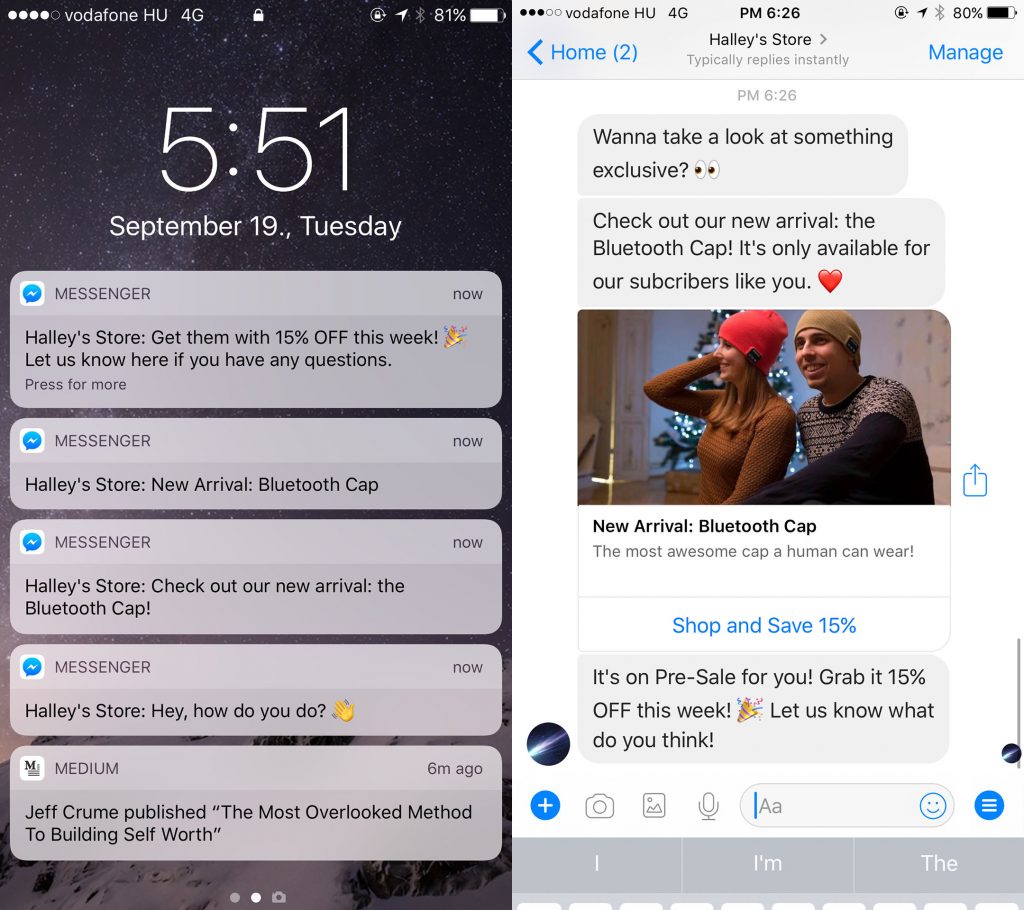 To boost your new arrival's conversion rate, include a discount in your campaign. People love new stuff. If you combine it with a discount, you'll see a lot more purchases from your subscribers.
Example #2: Free Shipping
Ecommerce stores run free shipping campaigns regularly. In my stores, I usually run it every second month when we see the sales declining a bit. Notifying your customers about your free shipping period is a great way to boost your sales.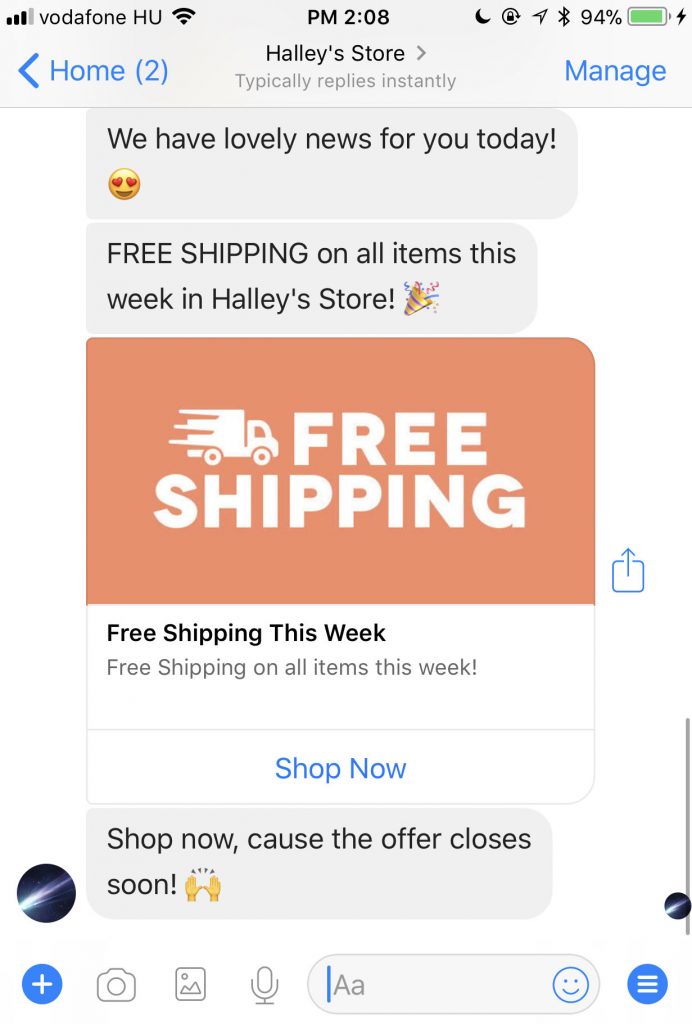 Example #3: Flash Sale
A flash sale is one of the most powerful ways to get more orders immediately. Recart's Instant Messenger Campaigns are literally the best way to notify your users about flash sales. With the Instant Messenger's 90%+ open rate, you'll reach 5-12x more people of your subscribers than sending an email newsletter.
This instant campaign uses scarcity to make people take action. Scarcity is one of the most powerful sales triggers merchants use to get people to purchase. Humans just can't ignore the fear of missing out.
Example #4: Exclusive Sale
Another good example of promoting sales is exclusivity. Everybody wants to feel special and everybody loves a good deal. In addition to offering an exclusive deal, you can also give more by offering free shipping and free returns.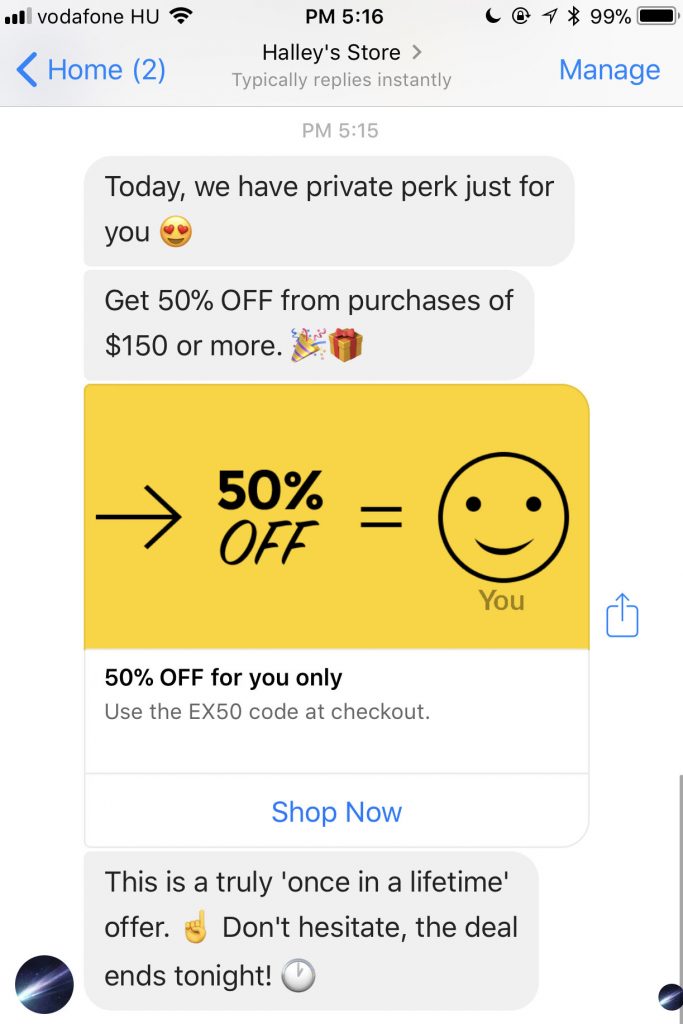 Example #5: Content or News
Sending fresh content or news helps to keep their customers educated and engaged. Many Shopify stores send their weekly content in Instant Messenger Campaigns and the results are astonishing. Try it yourself, here's an example of a content instant campaign: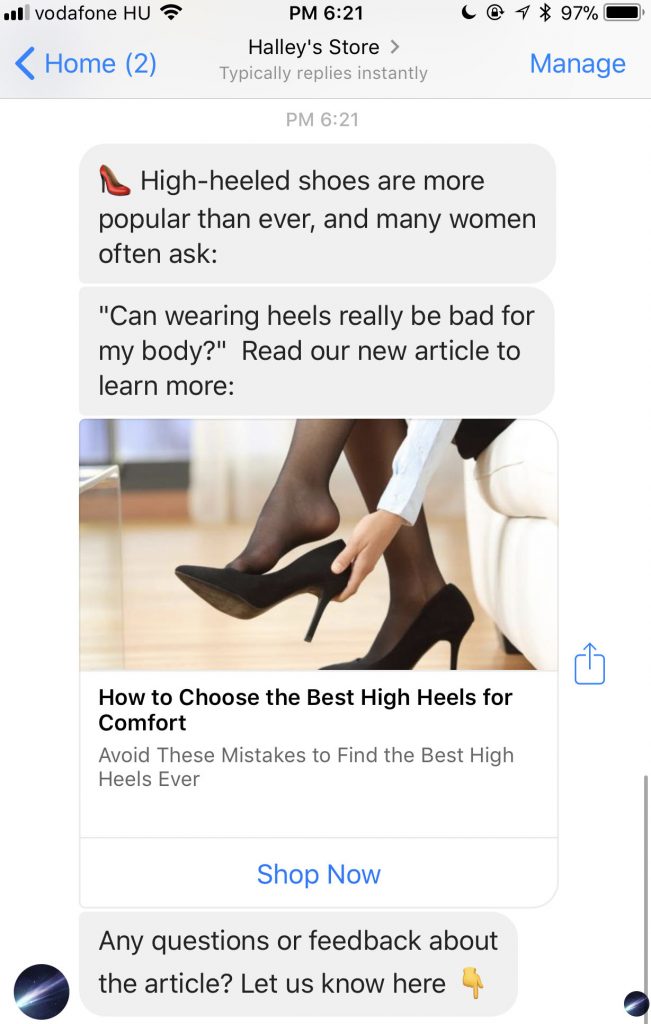 I can't wait to see you guys unlocking the power of the Messenger platform, tailored for your Shopify businesses. ?
Send your first Instant Messenger Campaign today! Click here to craft the first one. Not a Recart user yet? Install our app here.
You have better ideas for an Instant Campaign you don't see here? Hit me up on your support chat and let me know!
As always, any questions, you know where to find me. ?